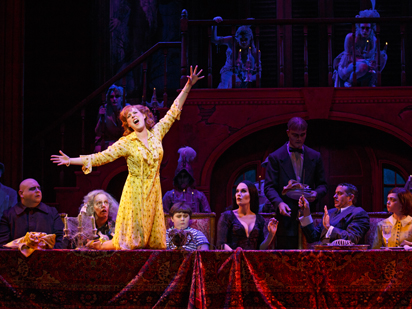 The Addams Family
October 24, 2013 at 8:00 p.m.
Fisher Auditorium, IUP Performing Arts Center
This event is over.
This whole spooky and creepy family comes to Fisher Auditorium just in time for the Halloween season. With an original story that's every father's nightmare, The Addams Family immediately became one of Broadway's biggest hits upon its debut in 2010.
Wednesday Addams, the ultimate princess of darkness, has grown up and fallen in love with a sweet, smart man from a respectable family. And if that weren't upsetting enough, she confides in her father and begs him not to tell her mother-his sultry wife, Morticia. Everything will change for the whole family on the fateful night they host a dinner for Wednesday's boyfriend and his parents.
The musical The Addams Family is inspired by the creations of the legendary American cartoonist Charles Addams, who lived from 1912 until 1988. In 1933, when he was just 21, his work was published in the New Yorker, and over the course of nearly six decades, he became one of the magazine's most cherished contributors. Addams is most widely known for his characters that came to be called The Addams Family, a group that evolved into multiple television shows, motion pictures, and now this Broadway musical.
Tickets are priced at $38 (regular), $32 (discount for senior citizens and groups of 15 or more), and $16 (I-Card holder, students, and children).