ZOFO Piano Duet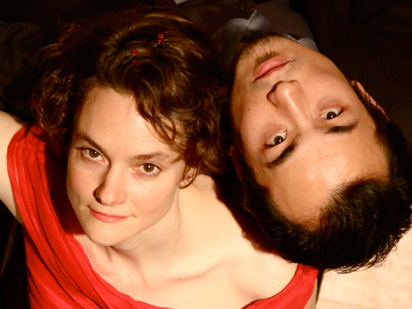 ZOFO Piano Duet
September 30, 2013 at 8:00 p.m.
Gorell Recital Hall, Second Floor of Sutton Hall
This event is over.
Internationally acclaimed solo pianists Eva-Maria Zimmermann, from Switzerland, and Keisuke Nakagoshi, from Japan, have joined forces since 2009 to become ZOFO. One of a rare handful of professional ensembles worldwide focusing exclusively on piano duets, these Grammy-nominated, prize-winning, Steinway Concert artists have electrified audiences from Carnegie Hall to Osaka Japan with their dazzling artistry and outside-the-box thematic programming for piano-four-hands.
"...jaw dropping awesome!" —San Francisco Examiner
Only one of a few professional ensembles worldwide focusing exclusively on piano duets, this prize-winning duo is rediscovering and energetically performing hidden gems of the traditional one-piano-four-hands repertoire along with a strong dedication to 20th- and 21st-century works.
The pair received two Grammy nominations for their 2012 release of Mind Meld, and took first place in the 2013 Bradshaw and Buono International Piano Competition. They gave their Carnegie Hall debut in 2010, and were the only piano duo be a finalist for the 2011 Osaka International Chamber Music Competition.
As innovators in the genre, ZOFO also performs heart-pumping duet arrangements of famous orchestral pieces such as Stravinsky's "Rite of Spring," exploring the realms in which many composers first experienced their symphonic visions.
Tickets are priced at $20 (regular), $16 (discount for senior citizens and groups of 15 or more), and $12 (I-Card holder, students, and children).