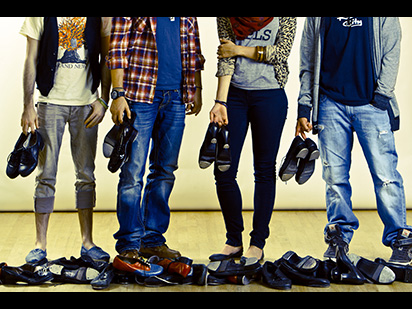 Rhythmic Circus
December 03, 2013 at 7:00 p.m.
Fisher Auditorium, IUP Performing Arts Center
This event is over.
This ensemble has quickly risen from an underground percussive-dance phenomenon to an innovative company known for transforming their tap shoes into musical instruments.
Infusing their unpredictable blend of hard-hitting tap, high-spirited humor, and finger-snapping instrumentals, the troupe satisfies their "rhythmic appetite" on everything from sand to folding chairs—and, in one number, even utilizes the technology of electric drum triggers to change the sound of their taps.
This unforgettable show, a celebration for the holidays and presented at a family-friendly time of 7:00 p.m., is guaranteed to leave audiences of all ages amazed with its unique "you have to see it to believe it" quality. This sensational production tells the tale of a nutty private investigator's assignment to discover the origins of the Rhythmic Circus—a unique group of colorful souls on a mission to change the world with song and dance.
While hot on their trail, Investigator Bobert forms an unexpected bond with the Rhythmic Circus that hurtles him and the audience into an adventure that won't be forgotten.
Tickets are priced at $24 (regular), $20 (discount for senior citizens and groups of 15 or more), and $12 (I-Card holder, students, and children).