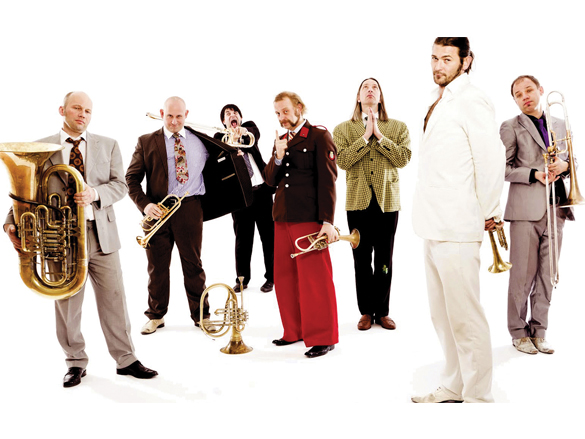 Mnozil Brass
February 11, 2019 at 8:00 p.m.
Fisher Auditorium, IUP Performing Arts Center
This event is over.
Mnozil Brass will explore the depths of their instruments once again to entertain you in Cirque. They will be entering the ring to combat the monkey business of daily life with music and humor and transforming the stage into a musical flea circus.
Mnozil Brass has established itself as one of the world's premiere brass ensembles. With over 130 performances a year, the group has sold out houses from the farthest reaches of the European continent to Israel, China, Taiwan, Japan, Australia, Canada, and the United States, and has captivated audiences with their blend of immense virtuosity and theatrical wit. No wonder their videos have garnered millions of YouTube views and their fans have traveled countless miles to hear them play.
Their recent hit show was hailed as "seriously funny" and "whimsically brazen." The show blends original compositions with classical favorites, jazz standards, and popular hits. As always, the repertoire is presented with the group's iconic humour and wit in scenes so clever that they would be worthy of Monty Python.
Mnozil Brass take their name from the Gasthaus Mnozil, a restaurant across the street from the Vienna Conservatory, where, in 1992, seven young brass musicians met and began playing at a monthly open mic. Since then, the group has embraced repertoire for all ages and stages of life: from folk to classical to jazz to pop; all executed with the same fearlessness, immense technical skill, and typical Viennese "schmäh" (almost impossible to find an English translation, but best rendered as a kind of sarcastic charm!).
In their time away from touring, Mnozil Brass has recorded eight albums and six DVDs. They've collaborated on three operetta and opera productions, and composed and recorded the music for the 2006 film Freundschaft. The group has been nominated for the Amadeus Austrian Music Award and won the prestigious Salzburger Stier Cabaret Prize in 2006.
Regular: $30
Senior (60+): $27
I-Card* and Military*:$17
IUP Student*: $15
18 and Under: $15
Tickets are available beginning August 27, 2018, by ordering online, visiting the Lively Arts Ticket Office, or calling our ticket office at 724-357-1313.
The Ticket Office is located in the lobby of the IUP Performing Arts Center, 403 S. 11th Street,
Indiana, PA 15705. Tickets can be purchased onsite noon to 5:00 p.m. Monday-Friday, or up to an hour before the performance.
For groups of 15 or more, please call the Lively Arts Office at 724-357-2787.
Ticket fees of $3 per ticket are applied to purchases made online, by phone, and at the Lively Arts Ticket Office†on the day and night of show.
To avoid ticket fees, please purchase your tickets at the Lively Arts Ticket Office† in advance the day before the show or earlier.
*I-Card (for IUP students and current SCA members) and Military discounted tickets must be purchased in person at the Ticket Office. Cards must be presented to be verified.
†The Lively Arts Ticket Office is located in the lobby of the IUP Performing Arts Center, 403 S. 11th Street, Indiana, PA 15705, and is open from noon to 5:00 p.m. Monday through Friday, when classes are in session.