September 30 at 6:00 p.m.; Ohio Room, Hadley Union Building
A former Ralph Lauren model and now a successful artist and author, Beckman's substance abuse and homosexuality were tabloid fodder following his reality-show stint on MTV's Real World Chicago. He will speak about his book, including issues of drug abuse, alcoholism, acceptance, and openness.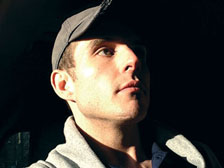 March 31 at 8:00 p.m., Fisher Auditorium, IUP Performing Arts Center
A recipient of the Presidential Medal of Freedom, King is a pioneer for women's equality and the advancement of women in sports. Winning an astounding 39 Grand Slam titles in her career, she continues to make her mark as her enduring accomplishments reverberate far beyond the tennis courts.