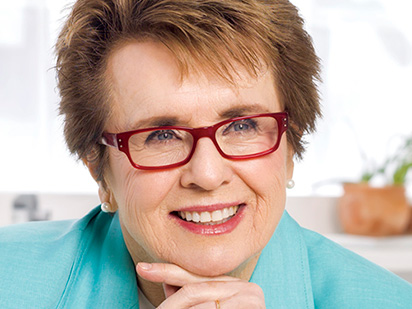 Billie Jean King
March 31, 2014 at 8:00 p.m.
Fisher Auditorium, IUP Performing Arts Center
This event is over.
If through words and deeds one person can truly make a difference for thousands of others in change-making ways, then that singular individual would be Billie Jean King. Named one of the 100 Most Important Americans of the 20th Century by Life and a 2009 recipient of the Presidential Medal of Freedom, King is a pioneer for equality for all and the advancement of women in sports.
Tickets are available in advance at the Hadley Union Building ticket office, open daily and located along Pratt Drive. If you need directions, hours, or other information, please contact the HUB ticket office at 724-357-1313. Tickets remaining will be available at the door starting at 7:00 p.m. on March 31 at the Performing Arts Center ticket office, Fisher Auditorium. If you wish to bring a group with more than four people, please contact the Lively Arts directly at 724-357-2787 (ARTS). Tickets are required, but are free.
King blazed trails for women everywhere in 1970 when she became one of nine players to break away from the tennis establishment and accept a one-dollar contract from tennis promoter Gladys Heldman to compete in the newly created Virginia Slims Series. The revolt led to the birth of women's pro tennis and the formation of the Women's Tennis Association.
In 1973, King produced one of the greatest moments in sports history when she defeated Bobby Riggs in the Battle of the Sexes. In 2008, she authored Pressure is a Privilege: Lessons I've Learned from Life and the Battle of the Sexes to commemorate the 35th anniversary of that historic match.
In 1974, she cofounded World Team Tennis, the revolutionary co-ed professional tennis league, and the Women's Sports Foundation. In 2006, the National Tennis Center, home of the U.S. Open, was renamed the USTA Billie Jean King National Tennis Center in honor of her accomplishments on and off the court.
Winning an astounding 39 Grand Slam titles in her career, Billie Jean King continues to make her mark as her enduring accomplishments reverberate far beyond the tennis courts. King has created new inroads for both genders in and out of sports throughout her legendary career.