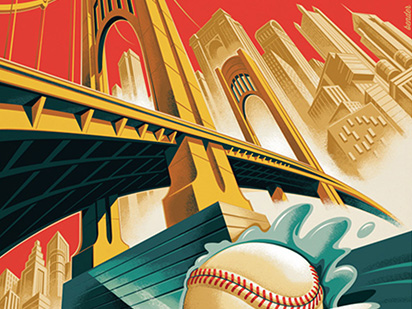 Pencil Paint Pixel: 29 Years of Visual Communication
June 07, 2014
University Museum, 1st Floor Sutton Hall
This event is over.
Mark Bender, an Indiana native and 1983 graduate of IUP, illustrates corporate communications for many prominent regional and national companies. This summer, the University Museum will feature his illustrative work in "Pencil Paint Pixel: 29 Years of Visual Communication." The exhibition opens Saturday, June 7, 2014, through Saturday, July 26.
The public is invited to the opening reception on Thursday, June 12, 5:00-8:00 p.m. Admission to the reception and exhibit is free.
Bender's images illustrate advertising campaigns, magazines and annual reports, packaging, CD covers, children's books, posters, and murals. Among his clients are IBM, Sony Music, NFL, Heinz USA, Pittsburgh Pirates, UPMC (Children's Hospital of Pittsburgh and Magee Hospital), Carnegie Mellon University, Heinz History Center, University of Texas at Austin, University of Chicago, National Public Radio, and Simon & Schuster.
Bender, on the faculty at the Art Institute of Pittsburgh, describes his distinctive style as "classically inspired and hand crafted, combining traditional media with contemporary technology to create compelling imagery…" He draws inspiration from vintage advertising of the 1920s and '30s, WPA art, and historical propaganda posters.
The University Museum is located on the first floor of John Sutton Hall. The museum's summer hours are Wednesdays 11:00 a.m.-7:00 p.m.; Thursdays 3:00-7:00 p.m.; and Saturdays 1:00-5:00 p.m. For more information, and to schedule group tours, contact Leslie Kluchurosky at (724) 357-2397.