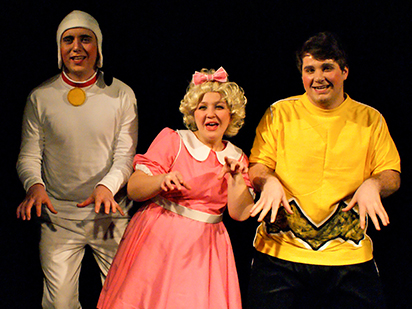 You're a Good Man, Charlie Brown
March 06, and 07, , and 08, , and 09, 2013 at 2:00 p.m.
March 10, 2013 at 2:00 p.m.
Waller Hall Mainstage, IUP Performing Arts Center
This event is over.
You're a Good Man, Charlie Brown took Broadway by storm in 1999 and has kept audiences smiling ever since. This lighthearted musical follows the adventures of Charlie Brown on a typical challenging day.
With help from the Peanuts Gang—Charlie, Sally Brown, Linus, Lucy, Schroeder, and Snoopy—we experience life with the openness and honesty of early childhood. Charlie says, "Goodbyes always make my throat hurt... I need more hellos..."
Come say "hello" and share a day in the life of the Peanuts Gang as they negotiate life's challenges in search of that ever-elusive thing called happiness.
Tickets: $15 / Discount $13 / I-Card $9