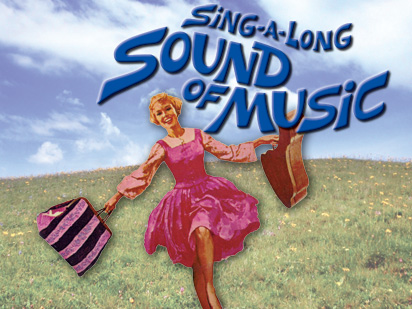 SingAlong Sound of Music
September 23, 2012 at 2:00 p.m.
Fisher Auditorium, IUP Performing Arts Center
This event is over.
A perfectly family-friendly function, we will take this award-winning film of an award-winning Broadway mega-hit to a different and fully participatory level. Since 1999, SingAlong Sound of Music has become an international sensation, playing for packed houses the world over.
From Canada to the United Kingdom and Australia to Sweden, thousands have taken part in this uplifting romp through one of the most touching musicals of all time.
A screening of the classic film musical in karaoke style, the performance begins with a live show in which your host will lead you through a vocal warm-up and tell you all about the small bag of props you will get when you arrive. Promising fun for all ages, SingAlong Sound of Music encourages audiences to express their silly side as they join together to cheer for Maria and the Von Trapp family, hiss the villainous Nazis, and let the hills come alive with the sound of this musical extravaganza.
Come as yourself or come tastefully dressed as your favorite character, but don't miss this chance to sing your heart out while following the bouncing edelweiss.
Tickets: Regular $23/Discount $18/I-Card $12