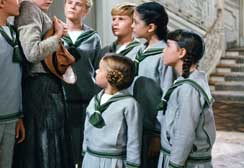 Looking for costume ideas for the SingAlong Sound of Music performance on September 23? We've got you "covered"! Check out these ideas, then look through your closet, hit the thrift stores, and get out the craft supplies. Or get your friends together and make it a group project.
If you want to rent a costume, we have coupons available for the Costume Shop in Indiana, which will save you 20 percent. To receive a coupon, just e-mail us at lively-arts@iup.edu, and we will send one to you. The coupon will also be available to those that follow us on Facebook and to those on our e-mail list (sign up). Be sure to order your costume soon while the supply lasts.
Do you have to wear a costume to come to the show? Absolutely not. But if you do, you'll be eligible for prizes given away at the show!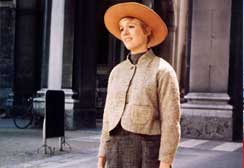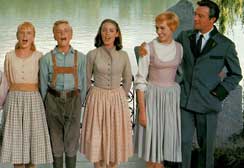 Character Costumes
Maria, the star of the movie: She has several costume changes, including her novice habit and two traveling costumes, both simple and pretty dresses. Grab a straw hat and a guitar case for accessories!
Baroness Elsa Schrader, the seemingly wicked girlfriend of the Captain: Check out your local thrift shop, or ask a friend or relative for a suitably dated—but elegant and aristocratic—outfit.
Captain Von Trapp, the head of the household: The Captain has three costume changes in the movie: a suit, a formal military uniform, and a crested flying suit.
Uncle Max: He has two multipiece suits—a double breasted suit and a crested flying suit.
Frau Schmidt, the housekeeper: All you need is a black and white housekeeping costume.
Liesl, the oldestdaughter, going on 16: If you're the practical type who can use a sewing machine and loves making clothes, you can purchase a Liesl dress pattern at a very reasonable cost, and really be the talk of the party! Click here for more Liesl images.
Maria as a bride: You can dress up as Maria in her wedding dress—a perfect reason to bring out your old wedding dress. Be careful of the train, though. We don't want you getting stepped on.
Nun or Mother Superior: Why not represent the Abbey and dress up as a nun, all the while singing "How Do you Solve a Problem Like Maria?"
The children: The possibilities run the gamut, from a simple party outfit, to dirndle dresses and lederhosen, to school uniforms, to the curtain material Maria used to make playclothes.
Party guest: Why not dress as a party guest at Gretl's first party—something fancy, elegant, and waltz-like.
Ideas from Songs!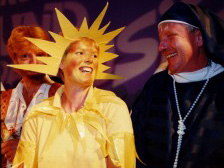 There are tons of fun things from these songs that can be made at home or bought . . .
Do-Re-Mi
Tea with jam and bread: Have a basket with a packet of tea, a loaf of bread, and a jar of jam. Or you and two friends can dress up as these items!
Ray, a drop of golden sun: Wear a gold or yellow outfit and sing Do-Re-Mi.
The ideas don't stop there: Doe a dear, A long, long way to RUN, A needle pulling thread, Follow So, Then come back to Doe.
The Lonely Goatherd
Puppets: You can dress up as one of the marionettes in the "Lonely Goatherd" puppet show. Attach some strings from your hands up to two pieces of wood. The big question would be: who will control the strings?
A goat: Grab some white wooly fabric and make yourself some horns out of cardboard or cloth.
A prince: "On the bridge of a castle mote heard . . ." Everyone wants to be a prince! Look at traditional Austrian outfits for an authentic feel; and, to throw people off a bit, wear a crown.
Little girl in a pale pink coat: How simple is this idea, and it'll keep the audience guessing. Subtle.
My Favorite Things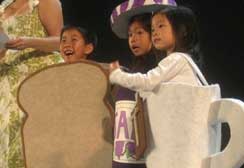 There are tons of ideas from this song that can be made at home or bought . . .
Brown paper package tied up with strings: Find a large roll of brown paper and tie it around you with some string. Make sure you can still move around easily and sit down comfortably. Although you may get some stares if you crinkle too much during the show.
Cream-colored pony: This would be a fun team effort with pals.
Goose: Be one of the "wild geese that fly with the moon on their wings . . ."
Girl in a white dress with a blue satin sash: This is another easy and cute idea. But it turns into something extra fun if you are a guy in drag.
Snowflakes that stay on my nose and eyelashes: Just find some light blue clothing and attach your favorite snowflake pattern.
And it doesn't stop there! Just listen to the song for some of your own ideas.
General Ideas
A plumber (as in Christopher Plummer): Wear a boiler suit and carry a wrench/spanner and tool bag.
A pair of curtains: Complete with curtain rod across your shoulders.
The Alps: Covered in snow. Grab some paper maché, or draw on a set of t-shirts! Could get messy!
Jar of spiders: Preferably plastic ones! (Maria: "How did you ever climb up there?" Liesl: "It's how we always got into this room to play tricks on the governess. Louisa can make it with a whole jar of spiders in her hand.")
Austrian or German traditional outfits: Put on your shorts and lederhosen for an authentic look.
Not Into Costumes?
If dressing up isn't your thing, you can always go as "Mi, a name I call myself."
Any Other Ideas?
Do you have an idea that you would like to share with us? We would love to hear from you. Just e-mail us at lively-arts@iup.edu.
See you at the show!