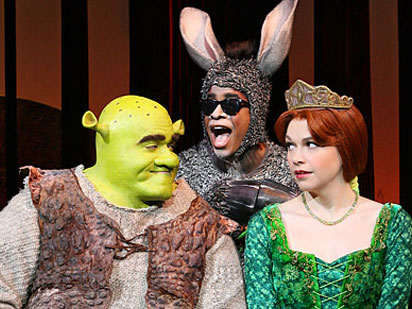 Shrek the Musical
December 10, 2012 at 7:00 p.m.
Fisher Auditorium, IUP Performing Arts Center
This event is over.
Based on the Oscar-winning DreamWorks film that started it all, the entire family will be awed as this Broadway tour magically appears in Fisher Auditorium. Shrek, one of the most popular movies for kids, has outdone itself with this live-action celebration of vibrant fantasy, tongue-in-cheek fairytale, and the magic that summons up a youthful laughter in all of us.
In a faraway kingdom turned upside down, things get ugly when a beast of a hero shows up to rescue a feisty princess. Throw in a donkey who won't shut up, a villain with a "short" temper, a cookie with an attitude, and over a dozen other fairy tale misfits, and you've got the kind of mess that calls for a real hero. Luckily, there's one on hand, and his name is Shrek.
Featuring a terrific score of 19 songs, big laughs, great dancing, live orchestra, and breathtaking scenery, Shrek the Musical is part romance, part twisted fairy tale, and all irreverent fun.
Tickets: $12-$35 (zoned and reserved seating available)