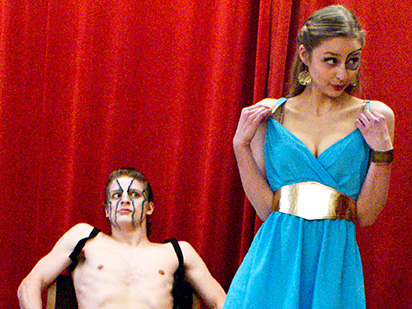 Lysistrata
April 25, and 26, , and 27, 2013
April 28, 2013 at (Select):(Select) a.m.
May 01, , and 02, , and 03, , 04, 2013 at (Select):(Select) a.m.
Waller Hall Mainstage, IUP Performing Arts Center
This event is over.
One of the few surviving works of the Greek playwright Aristophanes, Lysistrata was originally performed in Athens in 411 BC. The comic account of one woman's extraordinary mission to end the Peloponnesian War, Lysistrata plays upon the ancient theme of the battle between the sexes.
The women of Greece attempt to force an end to an unwinnable war through the withholding of their feminine charms from their warlike husbands and lovers. The women are ultimately successful in ending the war at the climax of this hilarious and thought-provoking classic.
This play contains language and situations to which some audience members may object and is not considered suitable for younger audiences.
Tickets: $14 Regular / $12 Discount / $8 I-Card