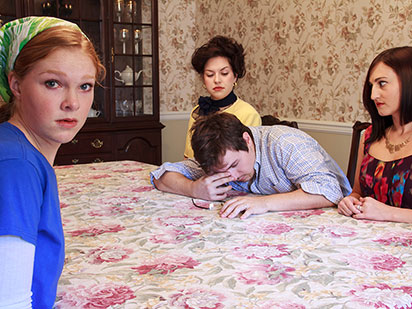 In Quietness
November 01, and 02, , and 03, 2012 at 2:00 p.m.
November 04, 2012 at 8:00 p.m.
November 07, , and 08, , and 09, , 10, 2012 at 8:00 p.m.
Waller Hall Mainstage, IUP Performing Arts Center
This event is over.
This recent play follows a former CEO who relocates to Fort Worth, Texas, to support her born-again husband's enrollment in a Southern Baptist seminary.
There, she becomes a student at the Homemaking House, the nation's premiere training ground for future homemakers and a place where the definition of marital bliss is questionable.
The play explores the difficulties of fitting oneself into a box and why, given how difficult it is, we all try so hard to do it. This play contains language and situations to which some audience members may object.
Tickets: $14 Regular / $12 Discount / $8 I-Card