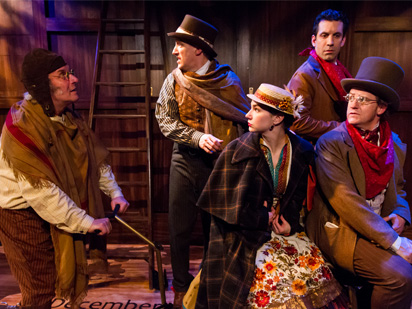 Around the World in 80 Days: Walnut Street Theatre
February 12, 2013 at 8:00 p.m.
Fisher Auditorium, IUP Performing Arts Center
This event is over.
Before there were pirates in the Caribbean or raiders of the lost ark, there was Jules Verne's Around the World in 80 Days, the mother of all adventure stories.
Travel to 1872 and join the eccentric Phileas Fogg as he and his crew lead you on a whirlwind journey filled with exotic locales, daring adventures, and narrow escapes. To settle a bet, the eccentric Fogg and his trusted valet, Passepartout, are on a race against time while they avoid Detective Fix, a Scotland Yard gumshoe who suspects the strange travelers of bank robbery. There's villainy, a damsel in distress, and secret plots that will keep you guessing until the end of this madcap romp.
Performed by Walnut Street Theatre, the critically acclaimed touring company from America's oldest continuously operating theater, Mark Brown's exhilarating stage adaption of this family masterpiece will keep you on the edge of your seat. Using a variety of innovative techniques, five actors portray 39 characters in this fast-moving and flat-out hilarious tour de force that will delight adults and children alike. Book your passage today for this high-spirited theatrical journey across oceans and continents, dodging danger, surviving storms, and outsmarting Scotland Yard as you seek to travel Around the World in 80 Days.
Tickets: Regular $23/Discount $18/I-Card $12