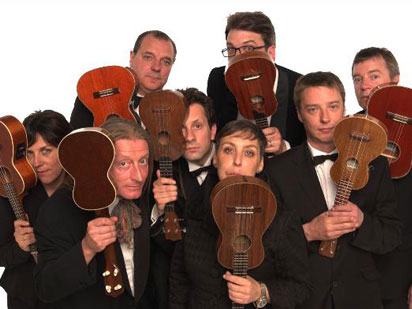 Ukulele Orchestra of Great Britain
October 23, 2012 at 8:00 p.m.
Fisher Auditorium, IUP Performing Arts Center
This event is over.
One of the most unique and comical groups out on tour today, this quirky ensemble spins out familiar, popular, and classical tunes in a way never heard before. A concert by the Ukulele Orchestra is a funny, virtuosic, twanging, awesome, foot-stomping obituary of rock-n-roll and melodious light entertainment featuring only the "bonsai guitar" and a menagerie of voices in a collision of post-punk performance and toe-tapping oldies.
Their dry and quick humor is matched only by their virtuosic performance on this rapidly resurfacing instrument. There are no drums, pianos, backing tracks, or banjos. Going from Tchaikovsky to Nirvana via Otis Redding and Spaghetti Western soundtracks, the UOGB takes audiences on "a world tour with only hand luggage" and gives the listener "one plucking thing after another."
Using instruments small and large, in high and low registers, whether playing intricate melodies, simple tunes, or complex chords, and sitting in chamber group format dressed in formal evening wear, the Orchestra uses the limitations of the instrument to create a musical freedom as it reveals unsuspected musical insights. Both the beauty and vacuity of popular and highbrow music are highlighted, the pompous and the trivial, the moving and the amusing. Sometimes a foolish song can touch an audience more than high art; sometimes music which takes itself too seriously is revealed to be hilarious. You may never think about music in the same way once you've been exposed to the Ukes' depraved musicology.
Tickets: Regular $23/Discount $18/I-Card $12