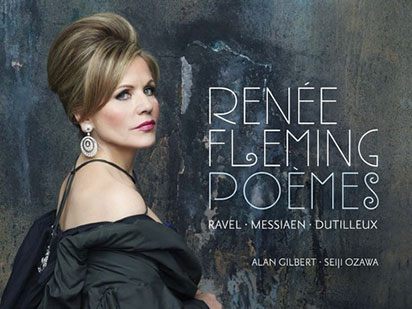 Renée Fleming in Recital
March 02, 2013 at 8:00 p.m.
Fisher Auditorium, IUP Performing Arts Center
This event is over.
"Back Home Again in Indiana!"
One of the most beloved and celebrated musical ambassadors of our time, Renée Fleming returns to her birthplace—Indiana, Pennsylvania—to present a rare recital program.
Performing for presidents and royalty, she is also known as "the people's diva," captivating audiences with her sumptuous voice, consummate artistry, and compelling stage presence. As a musical statesman, Ms. Fleming has been sought after on many distinguished occasions, from the 2006 Nobel Peace Prize ceremony to performances in Beijing during the 2008 Olympic Games to the televised We Are One: The Obama Inaugural Celebration at the Lincoln Memorial concert.
Ms. Fleming's numerous other accolades include the Fulbright Lifetime Achievement Medal (2011), Sweden's Polar Prize (2008), the Chevalier de la Légion d'Honneur from the French government (2005), honorary membership in the Royal Academy of Music (2003), and honorary degrees from the Eastman School of Music, Carnegie Mellon University, and the Juilliard School. A four-time Grammy winner and the most significant operatic soprano performing in the world today, Ms. Fleming is also an author, educator, director, arts advocate, and spokesperson.
It will be a true honor to welcome Ms. Fleming back to Indiana as she gets set to perform on the Fisher stage—the same stage her parents would have performed on when music students at IUP.
Tickets: $12-$35 (zoned and reserved seating available)