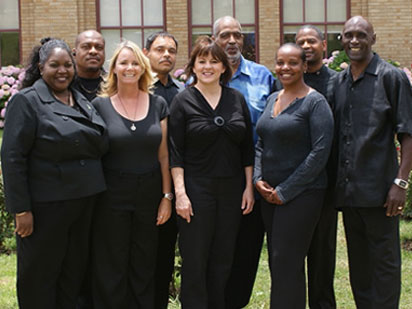 New Directions Veterans Choir
November 13, 2012 at 8:00 p.m.
Fisher Auditorium, IUP Performing Arts Center
This event is over.
This group's vocal prowess is as enthralling and inspiring as the story behind their music. Comprised of formerly homeless veterans who enrolled in the New Directions program in Los Angeles, the choir is an award-winning a cappella group that sings renditions of doo-wop, soul, traditional gospel, and popular music.
The New Directions Veterans Choir has been featured on the NBC Nightly News and E! Entertainment Television, reached the finals on NBC's America's Got Talent, and given over 100 performances, including on The Donny and Marie Show, at the Democratic National Convention, and for members of the United States Congress.
Despite their show business forays, the group's members have never forgotten their humble roots or their message of hope and redemption. Proceeds from this event, beyond expenses, will benefit the special needs of Indiana area veterans.
Tickets: Regular $23/Discount $18/I-Card $12