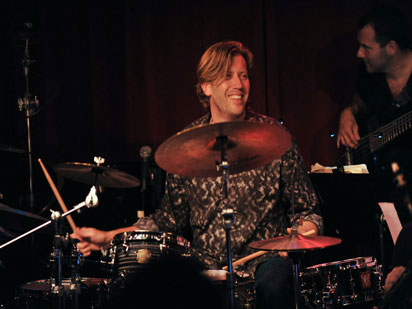 Live at Birdland with Tommy Igoe
October 09, 2012 at 8:00 p.m.
Fisher Auditorium, IUP Performing Arts Center
This event is over.
From their weekly engagement at the Birdland Jazz Club in New York City comes this amazing band that will thrill you with new hits, old standards, and iconic jazz tunes. Featuring New York's finest musicians and directed by one of the world's greatest drummers, Tommy Igoe, the Birdland Big Band provides a musical event that sets a new standard for jazz orchestras in the 21st century.
Touring with the Glenn Miller Band when he was just 18 years old, Igoe was recognized early as a drumming prodigy whose skills on the skins took him on the road with some of the great stars of jazz and pop. In 1997, Tommy Igoe was asked to craft the drum set for The Lion King on Broadway, a now-legendary production integrating modern drums with traditional African percussion which set a new benchmark for the diversity of sound in musical theater.
With the release of his groundbreaking 2004 bestseller Groove Essentials, Igoe's technical methods of composing drum sets have become a staple in universities and jazz clubs alike and have revolutionized 50 years of pedagogy in the field. Our own IUP Jazz Ensemble will partner with the group for a couple of numbers during this performance.
Tickets: Regular $23/Discount $18/I-Card $12