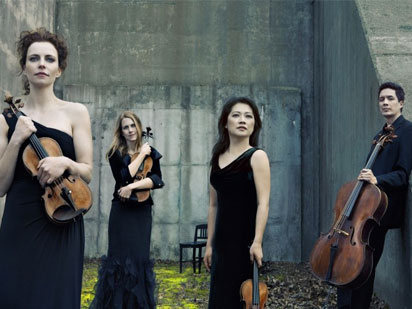 Daedalus Quartet
March 13, 2013 at 8:00 p.m.
Blue Room, First Floor Sutton Hall
This event is over.
A leader among the new generation of string ensembles, the Daedalus Quartet has received accolades from critics and listeners alike for the technical finish, interpretive unity, and sheer gusto of their performances.
The Daedalus Quartet has been widely recognized for its adventurous exploration of contemporary music. Aside from a mastery of classical and romantic pieces, the Daedalus Quartet has proven its skill with a long list of commissioned works and has collaborated with some of the world's finest instrumentalists. Since its founding, the Daedalus has performed in the nation's leading concert venues, including Carnegie Hall, Lincoln Center, the Library of Congress, the Corcoran Gallery in Washington, D.C., and Boston's Gardner Museum, as well as in Canada, Austria, the Netherlands, France, and Japan.
Among the highlights of the Daedalus Quartet's 2011-2012 season were performances of Fred Lerdahl's three string quartets at the Phillips Gallery in Washington, D.C. and at ProMusica in Detroit, as well as performances at the Mt. Desert Chamber Music Festival (with violist Nokuthula Ngwenyama), the Philadelphia Chamber Music Society, the University of Pennsylvania, the Tilles Center for the Performing Arts, the Howland Chamber Music Circle in Beacon, N.Y., and the Virginia Arts Festival.
For their performance in Indiana, they will be joined for one piece by members of the Litton Quartet, IUP's resident string quartet.
Tickets: Regular $20/Discount $16/I-Card $12