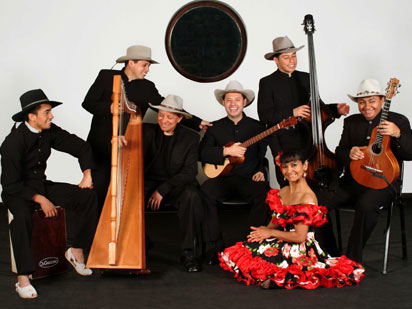 Cimarron
April 04, 2013 at 8:00 p.m.
Gorell Recital Hall, Sutton Hall
This event is over.
Cimarron is the most accomplished llanera group from the plains in Colombia, South America. Cimarron celebrates the sounds of Los Llanos Orientales-a vast plain of cattle country where the descendants of Spanish settlers, African slaves, and indigenous Indians live much like their ancestors within the lush savannahs that follow the great Orinoco River.
With a sound that has been described as turbo-flamenco-jazz, Cimarron is truly the bull that knows no rope-the steer that roams free, fierce, and unbranded at the breach of experiment and tradition.
This seven-piece ensemble, led by harpist and composer Carlos Rojas, has performed the world over for more than 20 years in countries like Venezuela, Mexico, Guatemala, Chile, Sweden, France, Italy, Austria, Slovenia, Holland, Wales, England, and the USA. Immersed in the festive dance music called joropo, Cimarron presents a fiercely virtuoso display of rippling melodies that produce a rapid and joyous sound.
Nominated for a 2005 Grammy following the release of its Smithsonian Folkways album Si Soy Llanero, Cimarron has also been honored with an acclaimed showcase at the 2008 World Music Expo and the iTunes Rewind Traditional World Album of the Year in 2011.
Tickets: Regular $20/Discount $16/I-Card $12