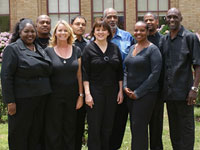 New Directions Veterans Choir
Date:
Tuesday, November 13, 2012
Locations/Time:
12:00 p.m. - 1:00 p.m., 1st Floor, Stapleton Library, IUP Campus
The New Directions Veterans Choir will present an informal mini-performance and question and answer session. Although open to the general public, the session will be of special interest to IUP Military Science students and high school age ROTC students. It will be an excellent time to talk informally to the veterans about their backgrounds, stories, and experience in the military, and get a preview of the evenings inspirational concert. Don't miss this unique opportunity as the Lively Arts partners with the University Libraries in the first of three Library Lively Arts Mary Jane Schafer Memorial events.
This outreach activity is in advance of the Ovations! concert being presented on November 13, 2012, at 8:00 p.m. in Fisher Auditorium, and is brought to you through ArtsPath, the arts-in-education program of the Lively Arts.
If you have any questions, please contact the Lively Arts associate director for arts-in-education, Jeff Wacker, at jwacker@iup.edu or at 724-357-2787 (ARTS).