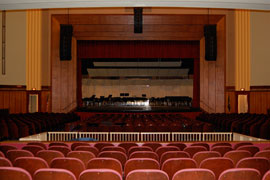 For several years, the PA Presenters Conference has offered showcase opportunities. And every year in our surveys, showcasing rises to the top of the list of why people come to the conference.
This year, we will provide two different spaces and three to four opportunities to showcase, with each session lasting a maximum of 2.5 hours. Spaces include the IUP proscenium road house, Fisher Auditorium, and the more intimate Gorell Recital Hall.
You may download the application and apply now with a due date of January 31, 2013. We anticipate informing all applicants of the showcase jury's decision by early March.
UPDATE: Thank you to all our great sponsors for the 2013 conference.
If you would like to help sponsor the 2014 conference to be held in Bethlehem, PA, please check out the information available here for 2013. Rates may change, but it will give you some indication of what will be involved.