Directions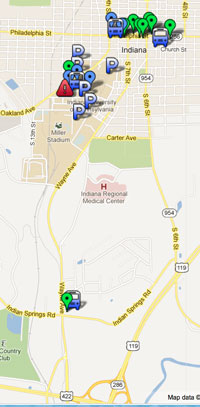 Please check our conference Google map for specific locations. For getting to campus, the university has several other tools and maps for getting to Indiana. If you need directions to a specific place not included, please e-mail lively-arts@iup.edu.

Parking

Parking during the conference is free on campus since classes are not in session at the time. You may park anywhere other than handicapped (without the proper government-issued permit) or 24-hour reserved spots. Please make special note that the Parking Garage on Grant Street will be closed due to annual maintenance and that the area marked on Grant Street on the Google map is not owned by the university but by the Borough of Indiana. So, meters would need to be fed on that street, but not anywhere else on campus.

Downtown parking meters are checked through 7:00 p.m. weekdays. Feeding those meters is highly advised.

Parking at the Holiday Inn is, of course, free. But a word of caution: there is quite a dip if you come out of the parking lot onto Indian Springs Road (the smaller street on the south side of the Holiday Inn property). Take it slow or at an angle just to be safe so as not to scrape the front of your car.

Shuttle

We will have a couple of school buses shuttling between the Holiday Inn and conference venues. Shuttle stops are marked on the Conference Google Map. The schedule and maps are also printed in your conference booklet. You can also download a pdf version of the schedule.

Getting to Indiana

The closest transportation hubs for Indiana are not all that close, to be honest. However, Amtrak does service both Johnstown (about 25 miles) and Greensburg (about 30 miles). There is a train in and out once a day. Airports would be Johnstown, which is a regional airport serviced by United and connecting all flights through Dulles; and Pittsburgh International Airport (about 70 miles). That trip will take between 75 minutes to two hours, depending on the traffic.

Indiana and the Surrounding Area

Here are some links that may be helpful if you would like to explore the area.

Indiana County Tourist Bureau
Artists Hand Gallery
Walnut Hill Winery