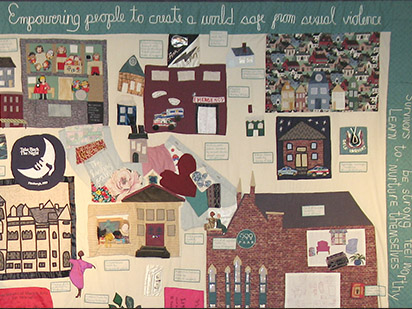 In Sisterhood: The Women's Movement in Pittsburgh and Bridge Builders
February 02, 2013
University Museum, Sutton Hall
Free Admission
These concurrent multimedia exhibitions illustrate the rise of movements for gender and racial equality in politics, labor organizations, and civic life.
A reception will be held February 2, 6:00 to 8:30 p.m.
Free admission. Hours: Tue., Wed., Fri. 2:00-6:30 p.m., Thurs. Noon-7:30 p.m., Sat. Noon-4:00 p.m. Exhibition runs from February 2-March 16.
Photographer: Dino DiStefano
Property of: In Sisterhood: The Women's Movement in Pittsburgh
Featured in photos:
Dr. Maureen McHugh of IUP, founding director of the Women's Studies Program and a member of the Psychology Department
A handmade quilt representing the 25th anniversary of Pittsburgh Action Against Rape (PAAR)