Mnozil Brass to Present Workshop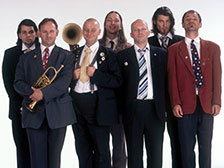 Mnozil Brass
Thursday, March 29, 2012
Time: 3:30 p.m. to 5:00 p.m.
Location: Gorell Recital Hall, second floor, John Sutton Hall, IUP Campus
A workshop and performance presented by Mnozil Brass. It will be entertaining as the musicians give a preview of their evening performance, but also informative as they talk about their careers and answer questions. This workshop will primarily benefit high-school and college-age brass players, but any musician will take away ideas on music and careers in music.
This event is in advance of the Ovations! series performance by Mnozil Brass at 8:00 p.m. in Fisher Auditorium on Thursday, March 29.
For more information on the workshop, please contact Jeff Wacker, associate director, Arts-in-Education, Lively Arts/ArtsPath at jwacker@iup.edu, or 724-357-2787 (ARTS). If you plan to bring a group of students, be sure to call/e-mail soon, as there is limited seating in Gorell Recital Hall and this will be first-come, first-served.