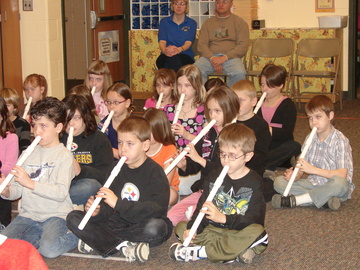 Our educational outreach program is called ArtsPath. ArtsPath is a regional arts-in-education program in partnership with the Pennsylvania Council on the Arts and is one of twelve throughout the state funded by the PCA. In addition to professional artist residencies in schools, ArtsPath also serves to advance workshop, master classes, and other outreach in connection with Ovations!, IUP's premiere touring performing artist series.
Through this work, ArtsPath reaches upwards of 5,000 area elementary and secondary students each year, plus thousands of IUP students and other community members.
Organized in partnership with the Indiana Arts Council, a wide variety of outreach in conjunction with Ovations! events is already planned, with more to be announced. If you would like to participate in any of these activities or have any questions, please contact Jeff Wacker, associate director for arts-in-education services, by calling 724-357-2787 (ARTS) or e-mail jwacker@iup.edu.
Poetry Out Loud
Poetry Out Loud is a national recitation contest sponsored by the Endowment for the Arts and the Poetry Foundation. It utilizes a tiered structure that begins at the classroom level and moves through to school, region, and state levels, with every state sending their champion to the national competition in Washington, DC. POL helps students master public speaking skills, builds self-confidence, and develop an interest and appreciation of poetry.

Cordis Presents Workshop to Education Majors
The contemporary ensemble Cordis will present an educational outreach session geared towards education majors.

India Jazz Suites Presents Dance Workshops and School Matinee
India Jazz Suites will present several outreach activities during their three-day visit to campus including a film, workshops, and school performance.
Eileen Ivers: The Celtic Repertoire, Presentation
Eileen Ivers, fiddler Tuesday, October 5, 2011 12 00 p.m.Stapleton Library, IUP CampusAs part of the Leonard A. and Mary Jane Schafer Foundation Lecture, Ms. Ivers will perform several traditional Celtic pieces, and Music Librarian Carl Rahkonen
PSO Musician to Work with Local Students
Pittsburgh Symphony Orchestra member James Rodgers will present a master class for local and IUP students.
Cedric Watson to Provide Extra Activity
Tuesday, February 7, 2011
Time and location are TBD 
This is the perfect opportunity for teachers who teach lessons focused on New Orleans culture and Mardi Gras to integrate live and authentic Louisiana Creole music into their unit. We are working with Cedric Watson et Bijou Creole and the Indiana Arts Council in supporting an outreach for Mr. Watson and his band to be part of an event that can be integrated in a portion of student's curriculum and learning. Check back as additional details are arranged, updated, and posted.
Yamato: Drummers of Japan Master Class
Tuesday, November 8, 2011
4:00 p.m.
IUP Performing Arts Center, 2nd Floor Rehearsal Studio
High school percussionists and their directors will be led in a hands-on workshop by members of Yamato and assisted by IUP percussion students using many of the traditional Japanese drums. Students will quickly learn how to play each of the instruments and how each is used in the various aspects of Japanese culture, culminating in playing them as an ensemble.
Mystical Arts of Tibet Outreach
October 24-31, 2011
See Schedule Below for Days and Times
Ohio Room, Hadley Union Building (HUB), IUP Campus

The Lively Arts is partnering with Stuart Chandler, Chair, Department of Religious Studies at IUP, and the Indiana Arts Council in presenting eight days of outreach activities for the entire campus and Indiana region.
In the Heights Workshop
This workshop will focus on the breakdown and exploration of Latin rhythms and dance with a focus on performers with little experience in that style The workshop will be facilitated by professional touring company cast members Dominic Carlos Pierson and Greer Gisy.  Approximately thirty-five minutes will be devoted to dancing and another ten minutes for Q & A.
José Franch-Ballester Master Class
The class takes place during the weekly area time set aside for the woodwinds, and will be attended by all IUP woodwind players of all instruments, with local high school students invited to attend and observe.
India Jazz Suites Study Guide
This study guide, prepared by Dance Affiliates in Philadelphia, provides valuable information about the performance by India Jazz Suites.