Cedric Watson to Provide Extra Activity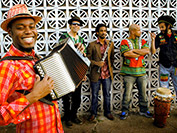 Tuesday, February 7, 2011
1:00 p.m., Cogswell Hall, Room 126 (Music Theater Rehearsal Studio)
This is the perfect opportunity for teachers who teach lessons focused on New Orleans culture and Mardi Gras to integrate live and authentic Louisiana Creole music into their unit. We are working with Cedric Watson et Bijou Creole and the Indiana Arts Council in supporting an outreach for Mr. Watson and his band to be part of an event that can be integrated in a portion of student's curriculum and learning. Check back as additional details are arranged, updated, and posted.
This outreach activity is in advance of the Ovations! concert being presented on February 7, 2011, at 8:00 p.m. in Gorell Recital Hall.
The student body and general public are welcome to attend, providing seating is available once school students have arrived.
If you are interested in this activity, please contact Rebecca Slak, executive director of the Indiana Arts Council at indianaartscouncil@verizon.net or 724-465-2787, or Jeff Wacker, associate director, Arts-in-Education, Lively Arts, at jwacker@iup.edu or 724-357-2787 (ARTS).