Paul Binai: Fifty-Year Retrospective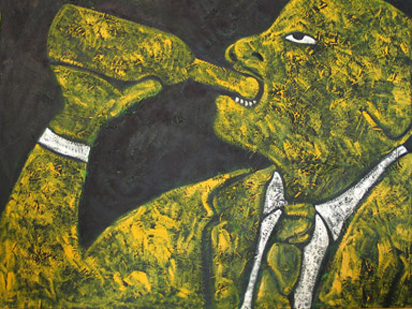 Paul Binai: Fifty-Year Retrospective
September 13, 2011
University Museum, John Sutton Hall
Free Admission
The opening exhibit for the University Museum, which will run through December, features paintings, prints, and collages by world-exhibited artist Paul Binai.
Binai has long been interested in the art of Asia and in the fusion of Asian and Western cultures. He identifies Japanese woodblock prints and twentieth-century German Expressionism as two significant influences on his own art. His vivid "shadow theater" paintings and engagingly detailed collages feature subjects drawn from history and literature, news sources, and personal memory.
Please Note: The museum will be closed for the Thanksgiving break from Saturday, November 19, through Monday, November 28. It will re-open on Tuesday, November 29.
Free admission. Hours: Tue., Wed., Fri. 2-6:30 p.m., Thurs. Noon-7:30 p.m., Sat. Noon-4 p.m. Exhibition runs from September 13 through December 3, 2011.