Jim Gaffigan: The Pale Tourist World Tour
Grammy-nominated comedian and actor Jim Gaffigan's "The Pale Tourist World Tour," his extensive stand-up tour with new material, is coming to theKovalchick Convention and Athletic Complex on August 22, 2020, at 7:30 p.m.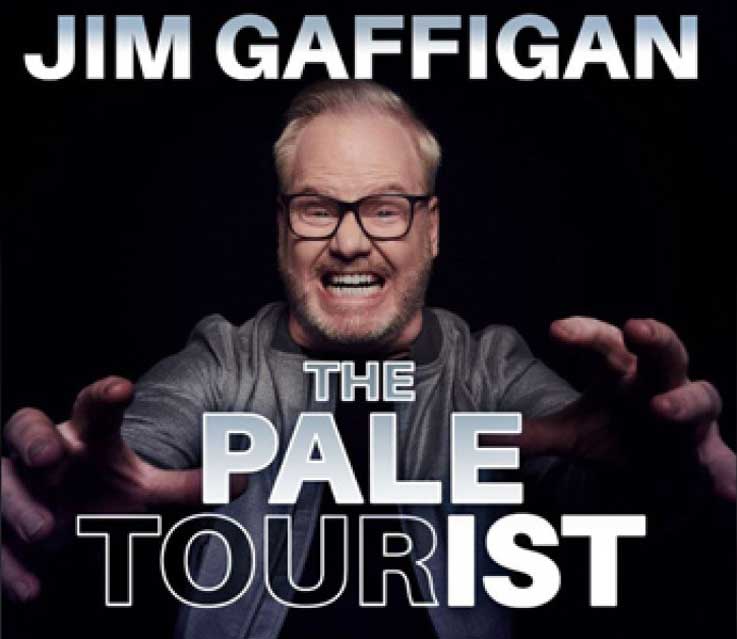 Pre-sale begins February 6 at 10:00 a.m. IUP students and employees can use the password "LAUGH" for advance tickets. Regular tickets go on sale Friday, February 7, at 10:00 a.m.
To purchase tickets for "The Pale Tourist," please visit IUPtix. COM or the Kovalchick Complex Box Office.
Jim Gaffigan is an actor, writer, producer, four-time Grammy-nominated comedian, two-time New York Times best-selling author, two-time Emmy top touring performer, and multi-platinum selling father of five.
2019 was Gaffigan's biggest year to date, with an astonishing eight films opening. Three of the films premiered at the Sundance Film Festival, including Troop Zero (Viola Davis, Allison Janney), Them That Follow (Olivia Coleman, Walton Goggins), and Light from Light (Marin Ireland)with many festival goers calling Gaffigan the "King of Sundance." He debuted in his first two leading roles in the comedy Being Frank and the thriller American Dreamer, which are now available for download. Troop Zero will soon be released by Amazon Studios.
Also in 2019, Gaffigan recently released his unprecedented seventh stand-up special, Quality Time, with Amazon making history as their first original comedy special.
Gaffigan is one of only 10 comedians in history to sell out the famed Madison Square Garden arena, and he opened for Pope Francis in front of more than one million people in Philadelphia during the Pope's visit to the US in 2016.
Gaffigan regularlydoes humorous commentaries onCBS Sunday, and last year he served as master of ceremony at the Al Smith memorial dinner. He was also recently named one of the world's highest grossing comedians by Forbes, and streaming site Pandora announced Gaffigan as their most popular comic, with over 647 million spins to date.
With a wide-ranging set of topics that covers just about everything under the sun, this hilarious actor/comedian packs a lot into each live performance. Hear his tales about bacon, family life, and experience just how lazy he claims to be, as Jim Gaffigan tickets will get you access to one of the best stand-up acts around. You don't want to miss the Jim Gaffigan tour when it stops in your town, so be sure to get your tickets now.
To purchase tickets for "The Pale Tourist," please visit IUPtix. COM or the Kovalchick Complex Box Office.