SPJ Treasurer Johnston Interned at the SPJ National Convention 2008
In early September of her senior year as a Journalism Department student at IUP, Kaitlyn Johnston, treasurer for the Society of Professional Journalists, went to work for a newspaper. The job was a brief but intense interruption from her classes as she interned at the Working Pressa daily newspaper published to cover SPJ's national convention and journalism conference in Atlanta, September 5-7, 2008.
Kaitlyn's Atlanta expenses were supported by a fund proposed by former IUP SPJ President Bill Harder to enrich the journalism education of SPJ members. The fund is replenished by an annual benefit concert.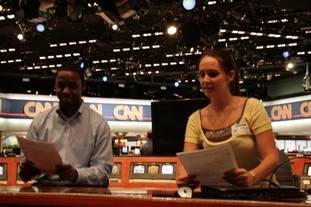 Photo of Working Press designers Nick Gowens, of Morehouse College in Atlanta, and Kaitlyn Johnston, of IUP, sitting at the CNN anchor desk, September 2008.