J-Jobs Boot Camp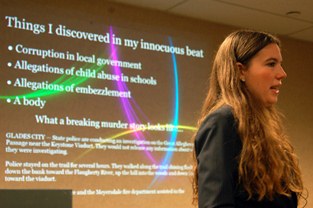 By Andrew Hesner
You do not have to be the best writer or the best reporter to get a journalism job. You just have to try hard and show you have ambition, a recent Indiana University of Pennsylvania journalism alumna told a group of students at the Hadley Union Building on November 27, 2013.
Alyssa Choiniere, a staff writer for the Daily American Newspaper in Somerset, Pa., and a December 2011 IUP Journalism graduate, spoke to about 40 students, largely Journalism majors, about jobs and careers at an annual event sponsored by the IUP chapter of the Society of Professional Journalists.
Choiniere said she loved her new job in daily print journalism.
"You have no idea what you're going to get yourself into when you walk through the door," said Choiniere, in a dark blue suit. "That's what I love about it. I learn something new every day."
For example, Choiniere said, she wrote a story in early November about an on-going police murder investigation after she came upon a dead body near the Flaugherty River near Meyersdale, Pa.
Joining Choiniere at the SPJ event was Scott Beveridge, a 1978 IUP Fine Arts and Art Education graduate. Beveridge, a 26-year veteran reporter for the Washington Observer-Reporter, described himself as a mobile journalist, photographer, blogger, and social media user.
"If you don't find a job in journalism, at least find a job because you don't want any gaps in your resume," said Beveridge in a green V-neck and khakis.
He discussed how journalism is adapting to technology and social media in the digital era.
"I've been on Facebook since 2005, Twitter since 2007, and blogging since 2007-08," he said. "I knew that if I didn't learn it, it was going to be to my detriment. And it has something to do with why I'm still working."
He said social mediums such as Facebook and Twitter, once considered a distraction in the newsroom, are now a requirement for employees of the Observer-Reporter and a factor in employee evaluations.
Students asked questions throughout the presentation.
IUP Journalism major and SPJ member Rebecca "Becka" Burns, 21, asked whether the rush of mobile journalism contributes to the mistrust and inaccuracies of the profession. She also inquired about Beveridge's personal blog, "Travel with a Beveridge."
IUP Journalism professor Erick Lauber, Ph.D., a media-convergence instructor, asked what students should do to prepare for the digital revolution.
Audience reaction was mostly positive.
"The speakers were informative, especially Alyssa Choiniere because she is so fresh from college," said Sean Yoder, 22, an IUP Journalism major and SPJ vice president. "Alyssa gave excellent resources and a positive outlook for all journalism kids who want to get employed quickly in the field."
Burns agreed.
"It was an interesting experience to see what it's like as a journalist after college," said Burns.
Andrew Hesner is a junior Journalism major at Indiana University of Pennsylvania. He is from Blairstown, N.J.
SPJ Hosts Fourth Annual J-Jobs Boot Camp
Two distinguished Indiana University of Pennsylvania journalism alumni returned to campus on March 26 to advise current journalism students about successful preparation for careers in media.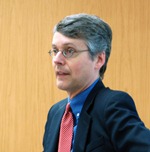 Rob Boston, class of 1985, is a senior policy analyst for Americans United for Separation of Church and State, a Washington, D.C.-based nonprofit organization devoted to monitoring the constitutional separation of church and state.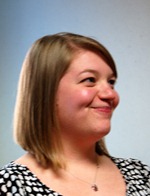 Kari Andren, class of 2008, is a reporter for the Pittsburgh Tribune-Review. She has covered Pennsylvania Gov. Tom Corbett's proposed budget cuts to education. Earlier, she covered Illinois state government for the St. Louis Post-Dispatch and worked for the Harrisburg Patriot News, where she covered Pennsylvania's 2010 governor's race.
The Hadley Union Building's Monongahela Room was standing room only for this fourth annual event, sponsored by the IUP chapter of the Society of Professional Journalists.
"These professionals are experienced at working around the highest levels of state and national government," said Dr. David Loomis, SPJ advisor and moderator for the event. "Their experience and expertise in working in and with media on local, state, and national issues make them especially informative to students who expect to communicate professionally in their careers."
Photos by David Loomis