"Lombardi Leads Crimson Hawks Back to National Prominence" by Vince DeAngelo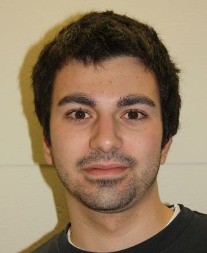 A cool morning breeze flirts with the cloudless, sun-drenched sky on the IUP campus outside Memorial Field House. Inside IUP head men's basketball coach Joe Lombardi's office, the crimson blinds filter the sunlight across the floor. Pictures of his family adorn his wooden desk. Trophies glimmer in a case by the far wall.

Last season, the Crimson Hawks went to the NCAA Division II Tournament, and Lombardi picked up his first tournament win as head coach at IUP.
"It was exciting as a coach to see the joy our players had with that success," Lombardi said. "To see them rewarded for the sacrifices they made throughout the year was a good feeling."
Lombardi, hired in April of 2006 and raised nearby Sharon, Pa., has transformed the men's basketball program into a successful group. Prior to arriving at IUP, Lombardi was an assistant basketball coach at the University of Pittsburgh. He worked with Pitt head men's basketball coach Jamie Dixon.
"Working with a Top-10 program was a great thrill," Lombardi said. "There were great expectations and challenges. We had a lot of talent and leadership and won a Big East Conference title Dixon's first year as head coach."
While Lombardi was an assistant at Pitt, the Panthers posted a 76-22 record over three years. Before joining Dixon's staff at Pitt, Lombardi was an assistant at La Salle University from 2001-2003. Lombardi has also worked at St. Francis University, St. Bonaventure University, Ohio University and Youngstown State University, his alma mater. Lombardi worked at IUP as an assistant from 1984-87.
Lombardi said he accepted the head coaching position at IUP because it was a great job opportunity. He and his wife, Janet, who is from Indiana, decided Indiana was a good place to raise their three children Dominic, who is on the IUP basketball team, Alyssa and Dante.
"Indiana is like a second home to me," Lombardi said. "The opportunity presented itself and I was at a time in my life where my children were getting older. It was a family decision to take the IUP job and move to Indiana.
"The job with Pitt was extremely life consuming and I was at the point in my life and career where I needed to make some personal choices. IUP was a perfect fit at that point, professionally and personally."
Assistant coach Chris Fite has known Lombardi for five years and is proud of the direction they have steered their team.
"We came in with a plan to change the profile of the team on and off the court," Fite said. "Our improving records over the last few seasons are proof to that."
In Lombardi's first season, 2006-07, the Hawks finished with a 6-21 overall record. In 07-08, they improved to 13-15, and last season they ended the year 22-8.
The Crimson Hawks participated in 15 community service projects last season, including the Heart Walk with the Indiana Regional Medical Center and the Thanksgiving Day Project, in which they delivered food to needy families.
"We work to build a program that not only can win games, but build it off young men that are willing to spend the time and make a positive impact on the community," Lombardi said. "We work not only to build successful teams, but those accomplishments outside of basketball - whether they're in the community or the classroom - is what really defines a winning program."
"He set it straight from the start," senior guard Thomas Young said. "I appreciate what an honest person he is. He also speaks level-headed. He treats everyone equally."
The IUP men's basketball team has produced the PSAC-Freshman of the Year every season Lombardi has been head coach at IUP. Gerald Brooks won the award 06-07, Darryl Webb in 07-08 and Julian Sanders last year.
Fite admires Lombardi's devotion to the team and his players' character development.
"[Lombardi] has a tireless work ethic and is always striving for his players and staff to push themselves to be their best," Fite said. "He has instilled his values into this program and not only do our guys take pride in their performance on the court, but they have an equal appreciation and pride in both their achievements in the classroom and their community service efforts."
Team goals are set before the start of each season and the Hawks are planning on continuing the success they have built since Lombardi took control of the program.
"Four of our five top scorers are returning," Lombardi said. "We feel that our physical talent level is the best it has ever been."