Movember: Testicular Cancer AWAREness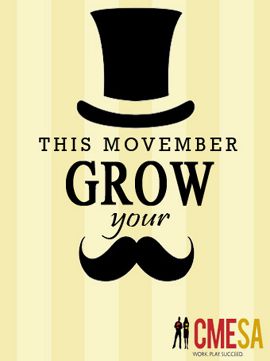 Movember! Changing the face of men's health on our campus!

What is Movember?

Movember (the month formerly known as November) is a moustache-growing charity event that raises money and AWAREness for testicular cancer. Starting Movember (November) 1, participants are required to shave all of their facial hair. Then they have the rest of the month to grow and flow their Mo's. Participants get creative—they wear their mustache as the new ribbon for men's health. Throughout the month of Movember, IUP Greek Life hosts events to raise awareness about prostate and testicular cancer. Donations will be collected throughout the month and will go towards the Prostate Cancer Foundation, the Lance Armstrong Foundation, and the Movember website.

Testicular Cancer

Did you know that compared to other types of cancer, testicular cancer is rare but it is the most common cancer in American males between the ages of 14 and 34?

Risk factors for testicular cancer include:

Undescended testicle
Abnormal testicle development
Family history
Age (14-34 at most risk)
Race (higher rates in white males)
Signs of testicular cancer include:

A lump or enlargement in either testicle
A feeling of heaviness in the scrotum
A dull ache in the abdomen or groin
A sudden collection of fluid in the scrotum
Pain or discomfort in a testicle or the scrotum
Enlargement or tenderness of the breasts
If you have symptoms of testicular cancer, don't panic. Many times, changes in testicles are not cancer. You should contact your medical provider to address your concern.

Early Detection is the Best Protection

To find cancer early, while it's small and before it has spread, adults should have regular tests called screening exams. These tests help your medical provider find common cancers before they cause symptoms. Talk to your medical provider about which screening tests might be right for you. If cancer is found early, it can be easier to treat. Survival also tends to be longer for those with early cancer.

For more information on Testicular cancer and to find out how to do a testicular self-exam, read the American Cancer Society's Do I Have Testicular Cancer?

Sources: Prostate Cancer Foundation, Lance Armstrong Foundation, Movember, The American Cancer Society

Disclaimer: This site is a resource for IUP students. It is not intended to replace consultation with your medical providers. IUP Health Service staff members are available to treat and give medical advice to IUP students. Visit the IUP Health Service website for more information.

Visit our resource library for more information.