University-Wide Retention and Persistence Committee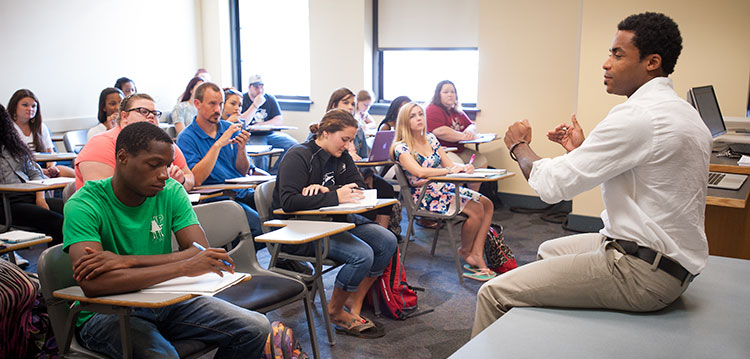 The goal of the University-Wide Retention and Persistence Committee (UWRPC) is to achieve a freshman to sophomore retention rate of 80 percent by 2022.
Charge
The charge of UWRPC is to:
Ensure deployment of strategies set forth by the Triumvirate for Persistence and Retention (TRIPR), which consists of the Provost and Vice President for Academic Affairs, Vice President for Student Affairs, and Vice President for Enrollment Management
Manage information flow of retention/persistence activities in and between divisions
Advise TRIPR of current retention/persistence activities and assessments of in-progress or completed retention/persistence activities
Members of this group will meet on a regular basis and will rely on collaboration with others in the university to help further the university's retention and persistence foci. Others in the university may join the group when data analysis/assessment information is needed. Members will communicate with divisional colleagues regarding the strategic directions and will guide divisional implementation of initiatives.
Members
Co-Chairs: Paula Stossel and Michele Norwood
Academic Affairs: Todd Cunningham, Dot Gracey, Michele Norwood, Stephanie Taylor-Davis,Dan Burkett, Megan McCue
Administration and Finance: Evie Carnahan
Advancement: Heather Andring, Mary Morgan
Enrollment Management: Tiffanie Fordyce, Tammy Manko, Paula Stossel
Marketing and Communications: Simon Stuchlik
President's Office: Chris Kitas, Barbe Moore
Student Affairs: Malaika Turner, Theodore Turner, Julene Pinto Dyczewki

Upcoming Events
The University-Wide Retention and Persistence Committee has been working for the past year to help provide direction and support for our students and their success. On October 23, we are hosting a Student Feedback Fair to talk to our students and assess how the campaigns that have been in place are working. Campaigns include Advising, Peer Mentoring, Financing your IUP Education, Registration, Wellness, and Student Engagement.
For more information on how to nominate a student to be invited to this important fair, please contact UWRPC co-chairs Michele Norwood (mnorwood@iup.edu) orPaula Stossel (pstoss@iup.edu).