November 2012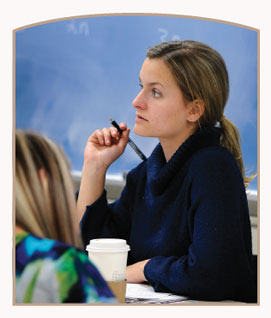 November 15, 2012With the academic year in full swing, I want to provide the university community with a progress report on the Division of Enrollment Management and Communications. The biggest news is, of course, that our enrollment has reached a new peak at 15,379and that the average high school GPA of our new freshman class was 3.2.
In this edition, you'll also learn about how we're trying to attract the best students with better communication and with scholarships.
While much of the responsibility for managing the enrollment rests on this division, I recognize that having students eager to begin their college careers here at IUP and keeping them engaged and supporting their success is a responsibility we all share. And, when students have a good experience, it helps us sell IUP to new prospects.
Thank you for all you do to help us in that regard.
Sincerely,
James Begany
Vice President for Enrollment Management and Communications
Healthy Enrollment
Seeking the Brightest
Telling Our Stories
On the Move
Questions? Suggestions?
This year, we are grateful to have an enrollment that exceeds that of any other previous year. We have done this in spite of a decline in the number of high school students who live in this part of Pennsylvania.
Of course, having more students in our classes does slightly diminish our student/faculty ratiowhich currently is holding steady at 19-to-1but without those students, we would be hard pressed to meet our budget needs. While the population trends are not working in our favor, the Pittsburgh Post-Gazette and other news organizations reported that IUP was PASSHE's only western school toexperience enrollment growth.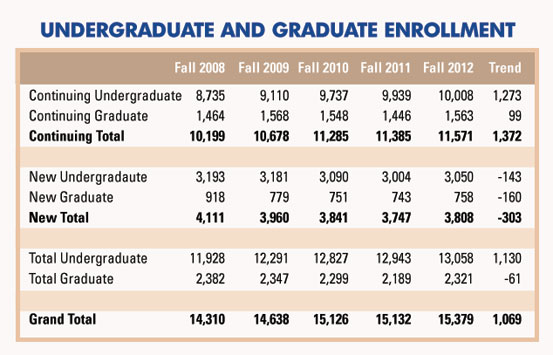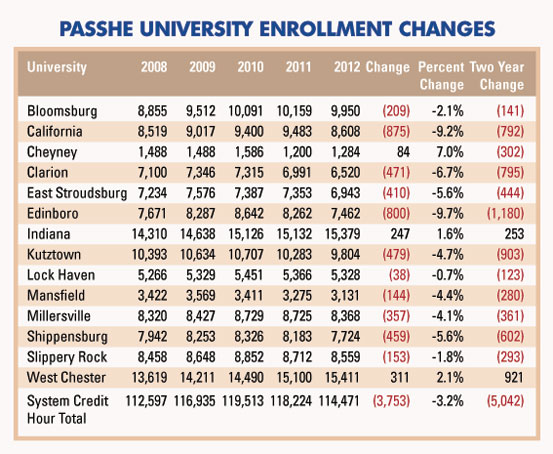 This shows how IUP stacks up within the entire system.

The following charts and graphs provide an overview of our student body, statistically speaking.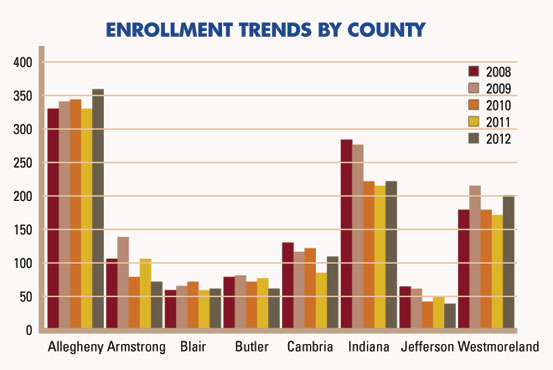 More students hail from Allegheny County than from any otherand have for the last five years. While many students from Armstrong, Butler, and Jefferson counties continue to choose IUP, the totals have slightly dropped this year.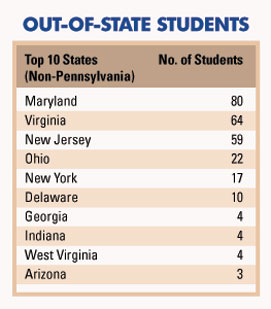 Students from Maryland, Virginia, Ohio, Indiana, and West Virginia qualify for a tuition discount, based on reciprocity agreements.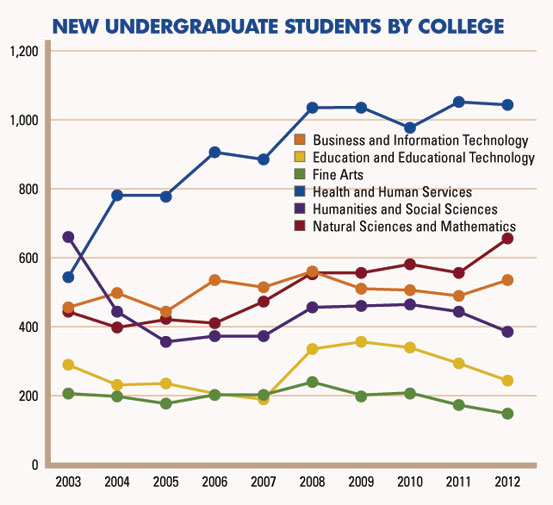 The disciplines of the College of Health and Human Services seem to attract the most attention.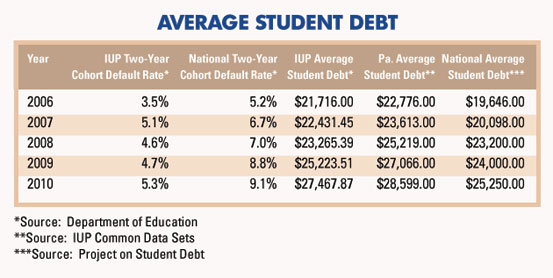 The average loan debt of the average student who has graduated from any Pennsylvania institution of higher learning is a concern for schools across the commonwealth.This is not new to those of us at IUP. This concern was addressed in a 2010 IUP Magazine article.
As a matter of clarification, while the Post-Gazette article reports that the average debt of Clarion University students is roughly $3,800, Clarion officials later reported that its average student debt is closer to $28,000. That discrepancy speaks to the numerous methods schools might use to report on average student debt.
Reporting standards aside, we are trying to combat the issue. In addition to helping us attract the very best students, the new Sutton Scholars program also was established to combat this very issue. The Office of Financial Aid is exploring the cost of off-campus housing to learn what kind of loan debt students are absorbing for off-campus accommodations. The Financial Aid staff also has offered a financial literacy workshop to students and is now planning to expand that effort.
Last spring, we launched the Sutton Scholars Program, meant expressly to attract bright students and keep them here for four years. In today's college admissions marketplace, qualified students and their parents are discriminating in the college they choose. They worry about debt load after graduation and often find merit-based scholarships offered by private schools to help ease their costs. The Sutton Scholarship is meant to attract these highly qualified students to IUP and our top-notch student experience.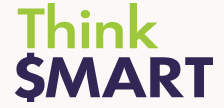 The fund gives the undergraduate admissions office the ability to present $1,000 and $2,000 scholarship awards to students who are considered high achievers upon their admission to IUP. For students who meet an academic standard, the scholarships will be renewed for a total of four years. So far this year, the average SAT score of admitted students is 16 points higher in comparison to last year's admitted students at this time.
The intent of this scholarship is to gain a commitment from the best students and ultimately offset their student-loan debt after graduation.
The undergraduate admissions office will conduct two Sutton Scholars screening programson December 7 and February 22to interview students who are eligible for the scholarships. See more about the Sutton Scholars program.
While the university's strategic visioning process is coming into play, we have made several investments in paid advertising that will help keep the IUP name in the minds of all IUP constituents. These include commercials on Pittsburgh market television stations that ran during election night coverage and a strong route of billboards that run through many parts of western Pennsylvania as far east as Altoona.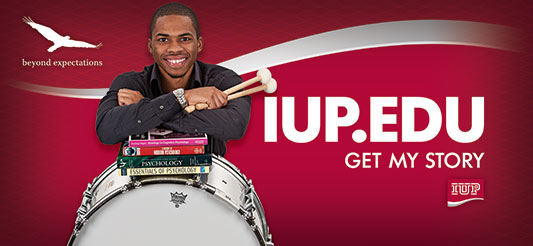 Our printed admissions package is in the midst of its distribution cycle, and we are connecting with audiences of all kinds through social media. IUP's official Facebook page has surpassed 20,000 fans, and the official IUP Twitter account communicates with some 3,500 students. The growth of both these social media venues has been dramatic, as shown by the chart.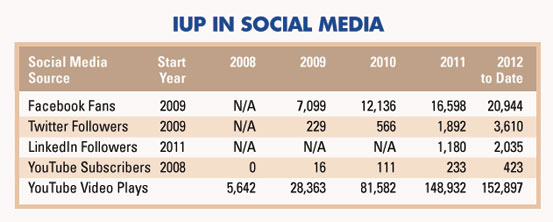 While mass media is necessary, it sometimes cannotand should notreplace face-to-face communication. The Office of Admissions has brought some 2,690 prospective students to campus so far this fall through Academic Expos, daily visitation programs, and Decision Days and will bring an equal number to campus in the spring. In addition, the office has taken its Decision Day, the program in which students learn about their admission status on the spot, to the Philadelphia area, for the convenience of prospective students in eastern Pennsylvania and nearby states.
Several personnel changes have occurred within the division. Patricia McCarthy, who has served as director of Financial Aid and assistant vice president for Enrollment Management, has assumed more duties as associate vice president for Enrollment Management. She now has oversight responsibility for the Office of Adult and Continuing Education, the Office of Financial Aid, scholarships, and division assessments. A search for a full-time Financial Aid director has started.
The search for the director of Adult and Continuing Education is in its final stages. Candidates visited the campus early in November, and we hope to have someone in the position by the beginning of the year. As the population and job outlook of the region change, adults are more plentiful in western Pennsylvania than traditional-age students. Because adult students require a different set of admissions-counseling services than traditional-age students, having a system in place to work with adult students is important for the university's enrollment health.
Heather Andring, who previously served as an admissions counselor in the Cook Honors College, is now based in the Office of Admissions, helping to centralize admissions functions for the honors college, as is Tiffanie Fordyce, who also worked in the honors college.
Carmella Manges, who was appointed associate vice president for Communications and Marketing, resigned in October. We are now considering reconfiguring that office to better meet the needs of the university's strategic initiatives.
If you have any questions about how we are recruiting students or would like to talk about strategies, I'd be glad to hear from you. Please don't hesitate to contact me via e-mail at jbegany@iup.edu or call me at 724-357-7544.