Enrollment Management and Communications Update, June 2012
June 1, 2012As the dust settles after the frenzy of activity that the end of the academic year brings, I am pleased to share this information.
As the head of the newly formed Enrollment Management and Communications Division, I think it's important to tell you what we are doing to keep IUP's campus vibrant with students who are committed to learning. Please take a few minutes to peruse the information you'll find in the tabs below. If you have any questions, I'll be glad to answer them. If you have any suggestions on how to keep our division's initiatives moving forward, I'd be glad to hear them.
Sincerely,
James Begany
Vice President for Enrollment Management and Communications
The Challenge
Retaining Quantity
Increasing Quality
Building Tools
Questions? Suggestions?
The division was formed to combat the change in our state's demographics. In essence, we are in the fifth year of a downturn in the number of graduating high school students in Pennsylvania. This trend is not expected to take an upswing until secondary students graduate in 2015, and, even then, the numbers will increase just ever so slightly.
Pennsylvania was home to 130,968 high school graduates in 2006. We currently are recruiting students to enroll in the fall of 2013; 118,137 are expected to graduate from Pennsylvania's secondary institutions in 2013.
Recruitment and retention affect every corner of the campus. Bringing Undergraduate Admissions, Culinary Admissions, Financial Aid, Continuing Education, Career Development, and Communications and Marketing into one organizational unit enables the university to be more focused and deliberate in its enrollment management plan. And, because everyone on campus plays a role in recruitment and retention in some form or another, keeping you informed about the division's efforts might also help you with your work.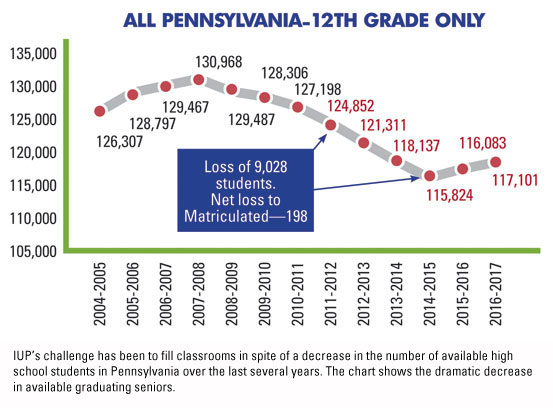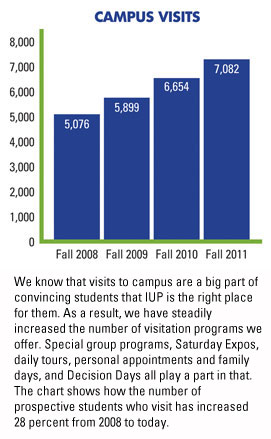 With the steady decrease in state funding we've experienced over the last decade, the university's financial health relies on a steady enrollment. Fewer traditional-age students here in Pennsylvania means we need to look elsewhere to keep our numbers strong. In the last four years, we have increased the numbers of students from New Jersey, Maryland, and Virginia by 28 percent.
We give thanks to the friendly atmosphere, the expert faculty, and the campus's beauty for this success. We have learned that when we bring students and their parents to campus to see it and to meet the IUP community, we win their hearts.
The Latino student population is the only one in Pennsylvania that is not decreasing. We are currently seeking a Latino student recruiter to help us in that regard.
Likewise, we are examining how we can attract more nontraditional-age students. Surveys by recruitment experts like Stamats Communications tell us adults most often seek programs in business administration, human resources management, marketing, nursing, accounting, criminology, and computer science. We are fortunate, in that IUP offers all those programs. We are proceeding with hiring an adult-student recruiter who can help prospective nontraditional-age students through the enrollment process.
Surveys also indicate adults desire flexibility and speed, so they can finish educational programs quickly while working full time, and they seek certification programs as often as degree programs.
I would be glad to share the available data with anyone who is interested in knowing what kind of programming interests adult learners.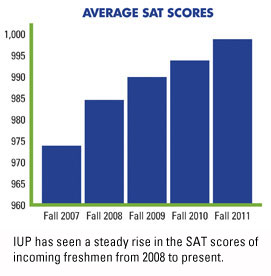 While keeping our student population at a healthy number is important, we remain focused on increasing the quality of the incoming class.
The average SAT score of the incoming freshman class has continued to climb. Students joining us this Fall on average have a higher SAT score than those from the last four years combined.
We are not resting on our laurels, however. The University Advancement Division is focusing fund-raising efforts on the new Academic Achievement Scholarship, meant just for recruiting. We will begin to award the scholarship to students who enroll in Fall of 2013.
I have convened a committee to formulate a process for awarding Academic Achievement Scholarships and Board of Governors Scholarships. Both scholarships will be awarded to qualified students, but students must also meet requirements to receive renewed funding.
The scholarships are an important recruitment tool that will help us better manage our enrollment. We intend to use the scholarships not only to attract students to IUP, but also to entice high-achieving students to make IUP their first choice and commit to us early in the admissions process.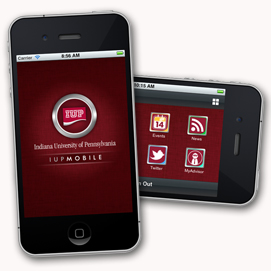 Once students join the IUP community, we want to ensure they have a great experience. Of course, the high-quality academic environment and the nurturing student services IUP provides are not the direct business of the Enrollment Management and Communications Division, but we are proud to provide accessories that help to facilitate that experience.
A new smartphone app is on the cusp of release. A task force consisting of personnel from across campusled by our digital team and IT Services is now testing the product.
We know that students who reside on campus have Internet access, but many students who live off campus rely on their phones for conducting Internet-based business. The app will give all users access to a campus directory, a campus map, and event information. Faculty members who use it and provide a username and password will have access to advisee and class information. Students who log in will have access to their class schedules, advisor information, and grades.
Eventually, we would like to develop a mobile tool for prospective students, too.
If you have any questions about how we are recruiting students or would like to talk about strategies, I'd be glad to hear from you. Please don't hesitate to contact me via e-mail at jbegany@iup.edu or call me at 724-357-7544.