July 2013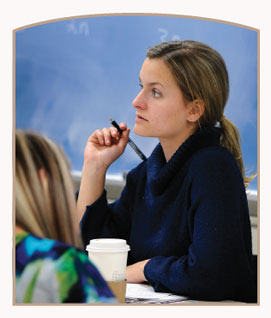 July 2, 2013Last year at this time, we were approaching our fourth consecutive year of record enrollment. At the same time, many institutions were not reaching enrollment goals.

Given western Pennsylvania's demographic challenges, we expected a decline for fall 2013 from our fall 2012 enrollment of 15,379, and planned strategically, not only by streamlining our budget dollars, but by exploring new avenues for building relationships.

Traditionally, the enrollment number doesn't increase significantly from this time of year until the fall freeze, so I would estimate enrollment will be right around 15,000.

IUP is not alone in this decline12 of the 14 Pennsylvania State System of Higher Education schools have reported that enrollment is down for fall 2013.

The good news is that we continue to maintain our academic standards and have been successful in our goal to recruit high-quality students; in fact, the average high school GPA has increased to 3.3.

New to this edition of the Enrollment Management and Communications Update is a comments section. I have shared several infographics on graduation statistics and alumni outcomes and am interested in hearing your interpretation.

Sincerely,

James Begany
Vice President for Enrollment Management and Communications

What Do You Think of Our Data?
Measuring Outcomes
Furthering the Brand
Building Relationships
Below are statistics showing the graduation rate of new IUP students over a six-year period provided by the Office of Institutional Research, Planning, and Assessment.
Graduation rates are not an exact science, as the number doesn't account for the entire IUP populationjust new students who complete a degree at IUP within six years time. Students who stop for a period of timefor instance going out on active military duty and then return to finish a degree are not counted, and students who start at IUP and finish at another institution are not counted.
At this time, I'll hold back my analysis of the data and welcome you to start the conversation with your interpretation of the results. The comments below will be open until July 20. Do you find the data surprising? What measures can we take as an institution to increase retention and bring about higher graduation rates? What do you think?

Each year, the Career Development Center collects data to gauge the postgraduation status and activities of each graduating class. The latest installment of data comes from 2,345 IUP alumni who graduated in December 2011 and May 2012. Through telephone interviews and online surveys, our alumni shared their current employment status and other related information. The results were refreshing to see: Even though the economy is struggling right now, our alumni are workingthe majority in the field of their choice.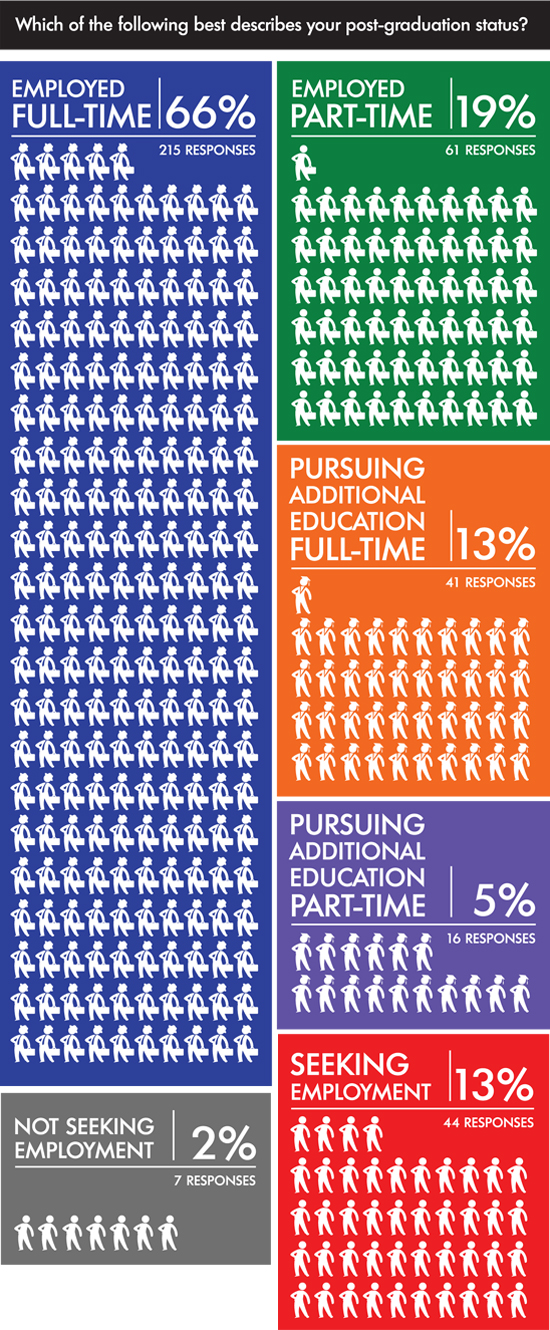 We made a strategic decision to contract with a media buyer to help streamline our advertising and get the most out of our budget dollars. This produced some unique opportunities to put the IUP brand in front of larger audiences. In particular, a buy with Root Sports allowed our commercial to run during every Pittsburgh Penguins away game. Also, billboards were purchased in eastern Pennsylvania, marking the first time we've been able to afford outdoor advertising in the Philadelphia area, where nearly half of our prospective students live.
In production now are a new admissions expo video, new commercial, and supplementary story pieces that will run during our fall and spring recruitment cycles next academic year. The expo video and commercial were filmed on campus in early May, and several students and staff and faculty members participated as extras and on-camera talent.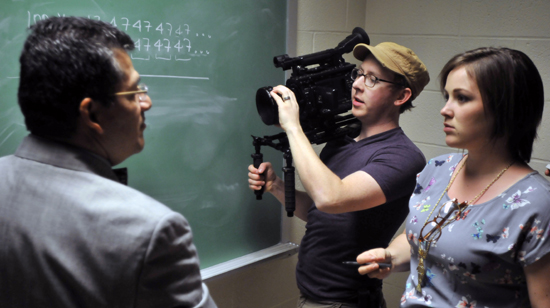 Mathematics Professor Francisco Alarcon demonstrated an equation for the main character, "Amy", played by Carolyn Chiurco '12 Theater Alumnae.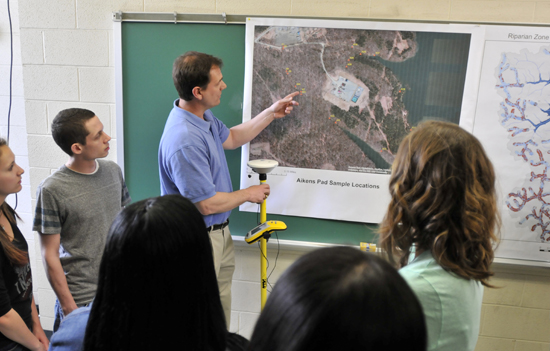 Geography and Regional Planning Professor John Benhart recreates a class on mapping with GPS equipment.
Psychology Professor David LaPorte brought his brain to the shoot (it's literally sitting on the desk in front of him).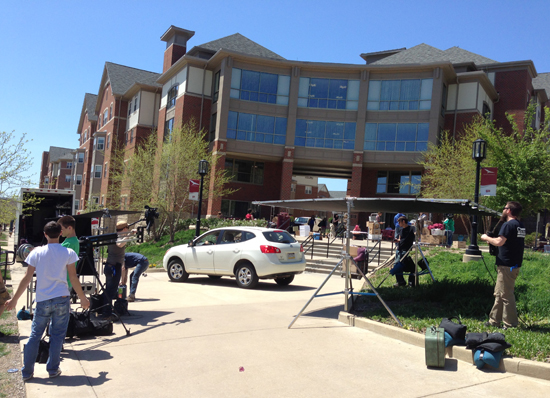 The first major scene of the video is move-in day, which was recreated in front of Delaney Hall.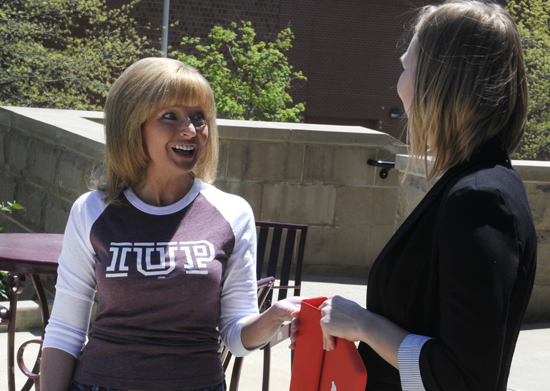 Staff members also participated as extras. Mary Jo Lyttle, Director of Alumni Relations, acted as an extra in the move-in day scene.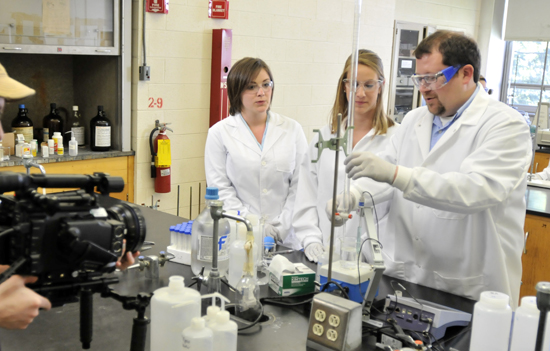 Associate Professor of Chemistry, Nathan McElroy, with main character and an extra. Many IUP students participated as extras.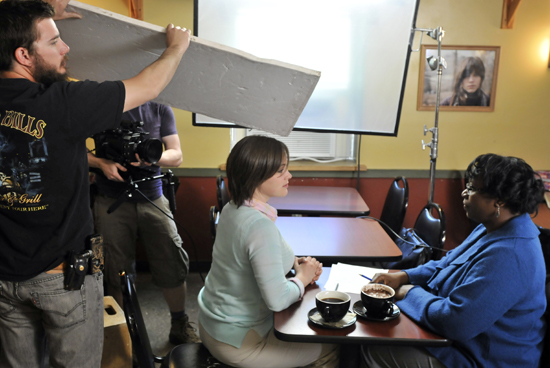 Faculty go the extra mile at IUP, as Associate Professor of English, Veronica Watson, demonstrates in this scene where she is meeting the main character for coffee to review her resume.
With a 7 percent decrease in high school graduates in Pennsylvania, IUP is working within a smaller pool to recruit qualified students. Finding opportunities for growth in the Office of Adult and Continuing Education is all about building relationships with audiences outside of the typical 18-year-old prospective student.
Kristen O'Hara, who was interim assistant director of IUP's Northpointe campus, has been hired as director of Adult and Continuing Education, and Tiffanie Fordyce, formerly of the Cook Honors College, is the Enrollment Services manager. They are working to expand current programs, build relationships with high schools and businesses in our region, and develop new opportunities to bring students of all ages to IUP.
Noncredit Programming
Lectures, such as the eight-week Great Decisions Foreign Policy Lecture Series at St. Andrew's Village, are facilitated and held off campus. These sorts of outreach efforts bring educational opportunities, along with the IUP name, into the Indiana community.
Community University Studies
This program has served the Indiana community for several years. Noncredit courses on topics such as painting, basic Italian, and yoga attract lifelong learners to IUP. The program is in the process of expanding to offer courses at IUP's Punxsutawney, Northpointe, and Monroeville sites.
Dual Enrollment
This program is for high school students who want to get a head start on college. The Adult and Continuing Education office is responsible for processing applications and for enrollment, registration, and orientation of all dual enrollment students. The office is also responsible for setting up memorandums of understanding between the schools and IUP. Currently, 24 MOUs are in place.
Marketing for Winter and Summer Sessions
Adult and Continuing Education is working with the Communications and Marketing office to design campaigns to recruit both current IUP students and non-IUP students to take courses during the Winter and Summer sessions. Winter Session courses are all online, allowing students to take courses from home during break.
Outside Employer Training Needs
The office is available to assist companies with their training needs and offers continuing education units to organizations that need them for professional development. Currently, the office is providing Microsoft Excel training to a local drilling company in Indiana.
Summer Enrichment Camps
Adult and Continuing Education plays host to summer camps for high school students and takes care of the marketing, program planning and coordination, and registration. This summer, high school sophomores, juniors, and seniors can attend an electro-optics camp or a creative writing workshop at IUP. New this summer is a robotics camp for junior high students in which campers will build, program, and race Lego Mindstorm robots.