Get Your Office or Department Calendar Updated for Fall
Web maintainers: If you haven't done so already, now is the time to get your department or office's online calendar ready for the fall.

Using University-wide Calendars
Our event calendars are one of the most powerful parts of the IUP.edu website. Events entered on your office or department website can be syndicated to the Central, Student, Diversity, Arts and Entertainment, Community, and Homecoming calendars; they are pulled into MyIUP and IUP Mobile; and they alert the Division of Marketing and Communications to what's happening on campus so we can help promote it.
Here are a couple of things to keep in mind as you enter your upcoming events.
Enter It Now, See It Later
Go ahead and enter events far in the future. They appear on your site's home page (and elsewhere) when the time is right.
Updating Events

If upcoming events already in your calendar are being postponed or canceled, please edit the published calendar event to include this info. Do not delete the calendar event or make a new version of it. Instead, edit the original by double-clicking directly on the event in the CMS workarea calendar. (Learn more about this.)

Add CANCELED or POSTPONED to the beginning of the title.

The university style is to spell CANCELED with one "L".
Use all caps; for example:
CANCELED - Model Rocketry Meeting

Add a brief explanation above the first paragraph.
Don't change the existing date, time, or taxonomy.
Click the Save button to submit the update for publishing.
Title
Try not to be overly wordy. Just say what the event is. You have the description box available to go into detail about your event. Remember that more than half of the traffic to iup.edu is from mobile devices, so having a really long title will look even longer on a small screen. Also, don't put the time of the event, or its location, in the title.
If the event is online, add (Virtual) to the end of the title. For example,
Bingo, Sponsored by BACCHUS (Virtual)

Here are some more tips about calendar titles.
Don't Neglect the Description
The description is your chance to tell people why they should come to your event. Don't skimp on it! Even if you're entering an event that everyone already knows about, there are always new folks on campus who need to know what convocation is, what commencement is, etc.
(The description area will expand to include as much as you need it to. Your event description can be as long as you need it to be.)
Use the Location and Time Slots
Use the Ektron-provided location and time slots so that these important details make it to everyone who sees the event on and off the website. Your description shouldn't repeat those details. If the time and location change, you're likely to miss changing the description when you edit the event—resulting in confusion for website visitors.
Don't Duplicate Events from Other Offices and Departments
We strive for just one, full, accurate entry for each event. Multiple entries for the same event can cause confusion, lead to bloated calendar listings, and hurt our search engine rankings.
Use the University Calendars
On the Taxonomy tab, you can choose to have your event included on a variety of university-wide calendars: Central, Student, Diversity, Arts and Entertainment, Community, and Homecoming. If your event has broad appeal, check those boxes. (By the same token: if the whole campus isn't invited to your department meeting, please don't put it on a university-wide calendar. Having lots of events most people can't go to reduces the usefulness of these calendars.)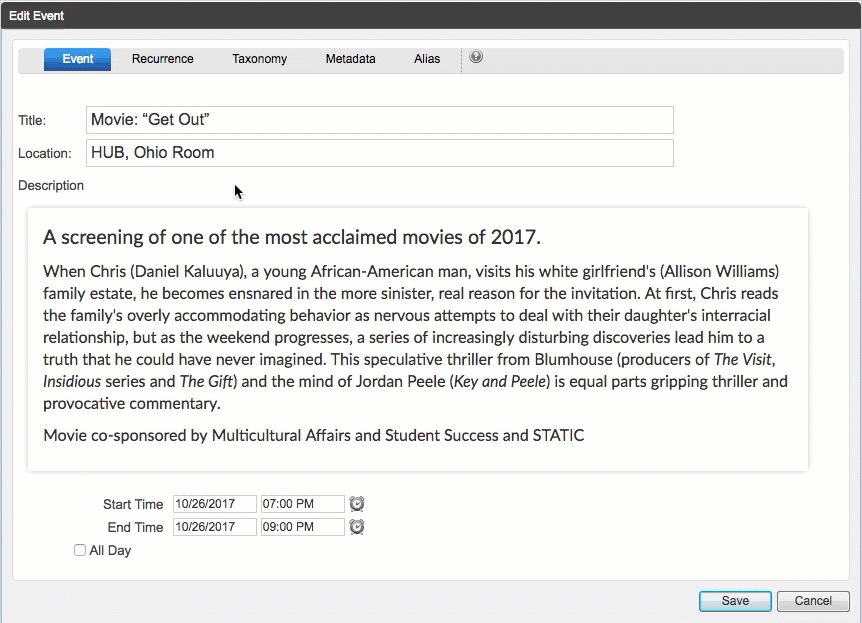 If you haven't done this before, watch the animation above, or follow these directions:
While editing a calendar event, click on the Taxonomy tab at the top of the editing window.
Click on University Calendars to expand those categories.
Select the appropriate Calendar(s).
If your event editing is complete, click Save to submit it.
Even More about Events
There's lots more to know about using your calendar effectively. Read all about calendar events in our How To section.
Online Training
Online training is always available for all web maintainers. These D2L courses are available online and on-demand for new maintainers, or for those looking for a refresher. The two courses cover the Fundamentals for Web Maintainers and the advanced Page Layouts for Web Maintainers.

Registration for both is required. Learn more about and register for online training.

If you have any questions about editing your calendar events, please check our Update an Existing Event How-to page, or email web-team@iup.edu.
Thank you.
The Digital Team