Soft Skills Enhancement
Tutoring Sessions with the IUP Writing Center
Schedule a Session
Tutoring sessions are offered in two ways:
Online: Schedule an appointment with a tutor and discuss your needs via zoom.
E-tutoring: Submit a copy of your assignment, and a tutor will review and provide feedback via email.
To schedule a session, complete the online scheduling form. 
Contact ltaylor@iup.edu or dminser@iup.edu with any questions. 
Spring 2023 Tutoring Schedule
Appointments available January 23 through May 5, 2023
Subject to change
Please check the online scheduling form for available appointments.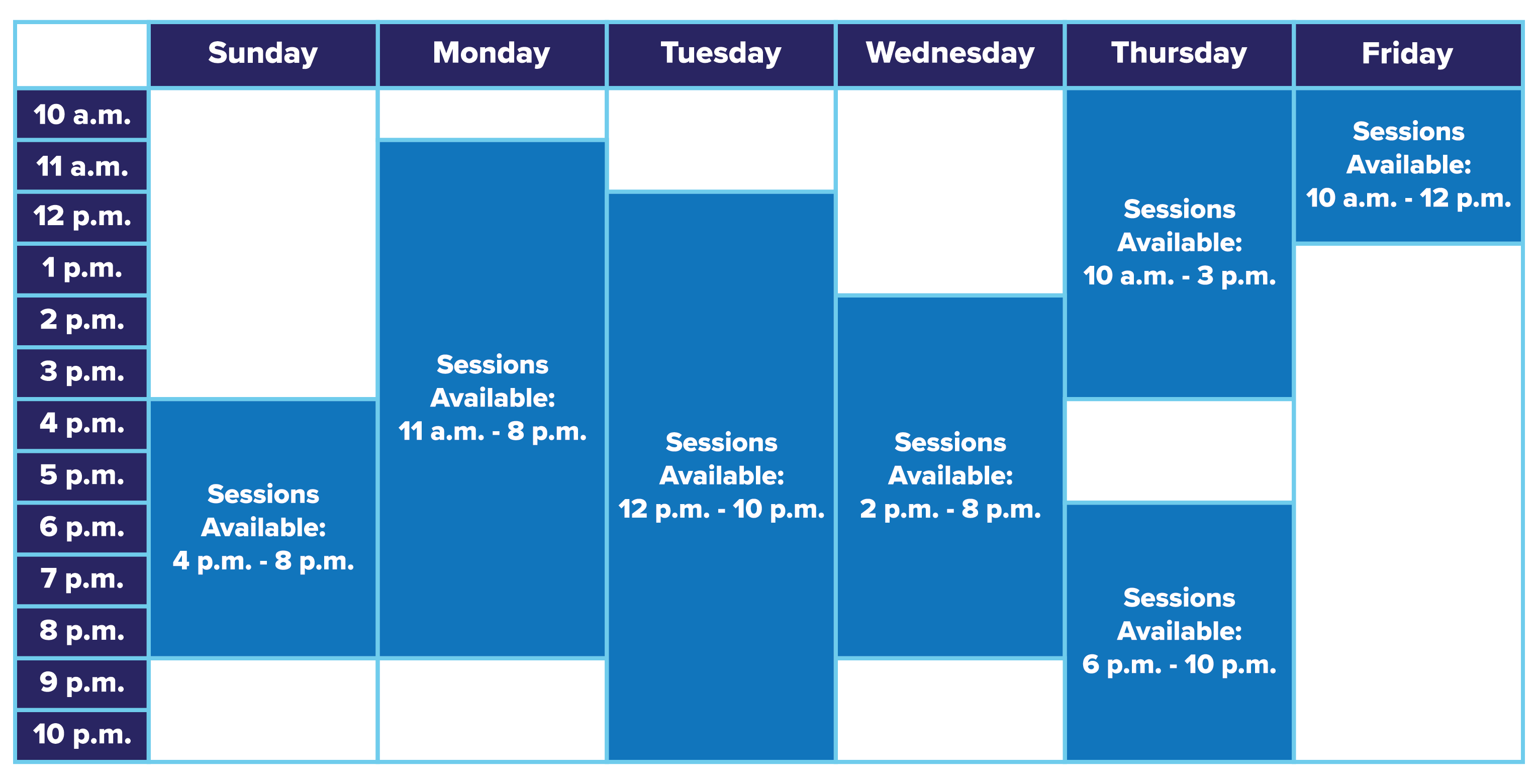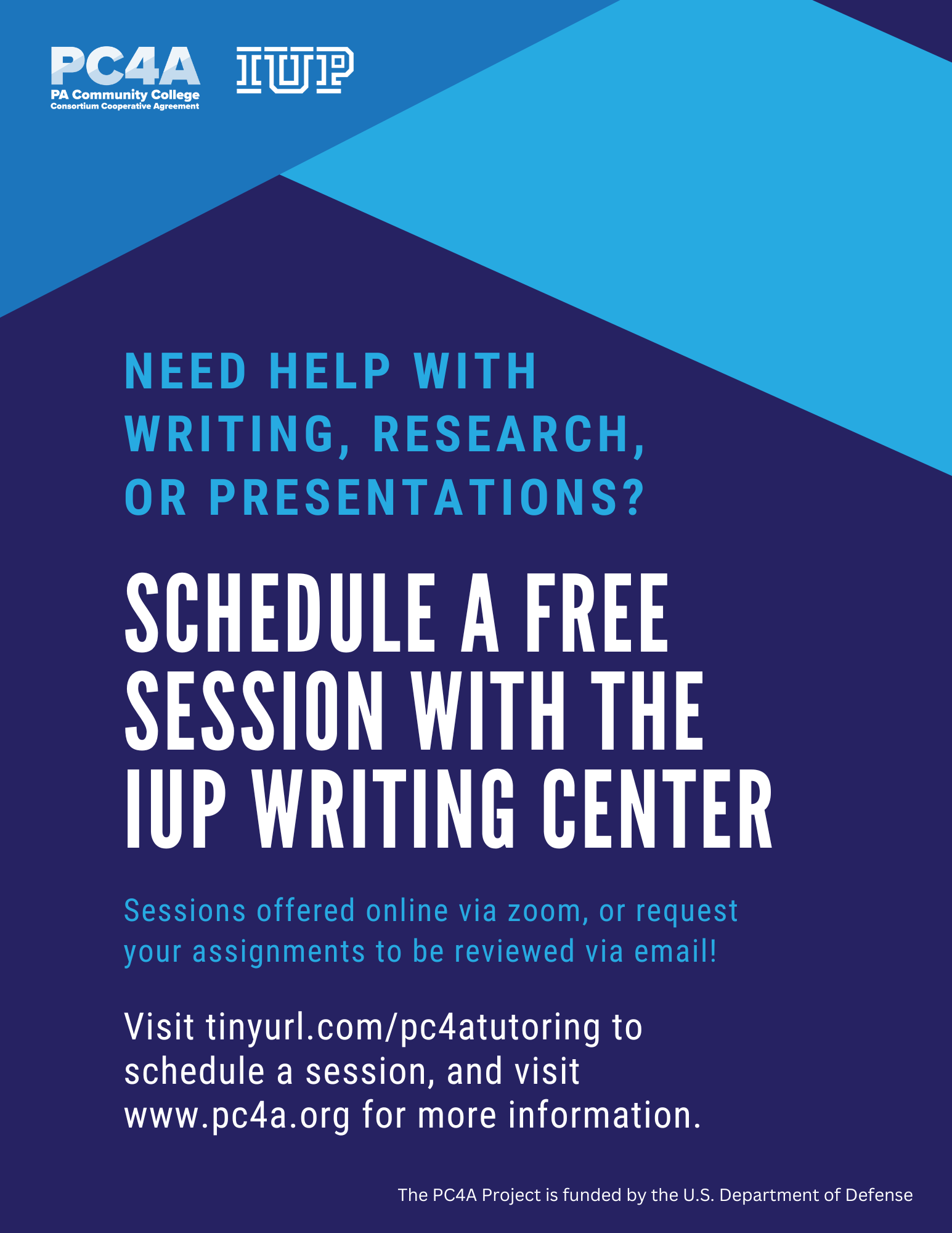 Download this flyer.

Business Writing and Soft Skill Workshops, Spring 2023
Offered via Zoom by the IUP Writing Center, the workshops below cover a variety of important topics that help students become better prepared for the workforce. Contact w-center@iup.edu for more information.  Download the workshop flyer. 
Words that Work: Strategic Language for Professional Communication – February 8, 7:00–8:00 p.m.
A workshop based on the book Words that Work: It's Not What You Say, It's What People Hear by Frank Luntz. This workshop explores the principles of Words that Work, including simplicity, brevity, credibility, novelty, and speaking in an aspirational tone, and gives students a chance to practice each of the principles. The workshop concludes by exploring how the strategic choice of words can be an asset in professional communication.
Résumé Writing Workshop – February 22, 7:00–8:00 p.m.
Level: Undergraduate/Graduate - Business Writing Series
This workshop introduces students to developing the content and designing an effective résumé. We explore effective résumé samples, how to frame experience to diverse audiences, and different content that goes in a résumé. Students also can learn new features in MS Word that will make their résumé distinctive. Students can get started on one during this workshop, or polish what they've already written.  
Cover Letter Workshop – March 1, 7:00–8:00 p.m.
Level: Undergraduate/Graduate, Business Writing Credential Series
This workshop introduces students to writing an effective cover letter.  After reviewing models of successful cover letters, we'll discuss the purpose of the cover letter, how to tailor a cover letter to fit a specific job, and how to highlight relevant experiences. Students will get a chance to draft a cover letter for intended positions.
Introduction to Technical and Professional Writing – March 22, 7:00–8:00 p.m.
This workshop introduces students to the nature of writing in and for the workplace. It helps students develop their writing skills to shape their professional communication. With practical examples and engaging activities, students learn different styles, structures, and organizations of professional and technical writing genres. During the workshop, students learn about multimodal and digital ways of composing in technical and professional contexts. 
Selling your Proposal in Professional Settings – April 12, 7:00–8:00 p.m.
Level: Undergraduate/Graduate, Business Writing Credential Series
Proposals of ideas, new approaches, or new products are how you can make changes. This workshop introduces students to how to write innovative short proposals to create change in their organizations and beyond. This workshop will discuss how to create short proposals in a business setting, how to pitch ideas and proposals to various audiences, and how to sell your ideas to others.  This hands-on workshop will include proposal pitching and practice.
Help Sheets for Improving Writing Skills
Recorded Presentations
Any opinions, findings, and conclusions or recommendations expressed in this material are those of the author(s) and do not necessarily reflect the views of the Office of Naval Research.