Counselor Education and Supervision, PhD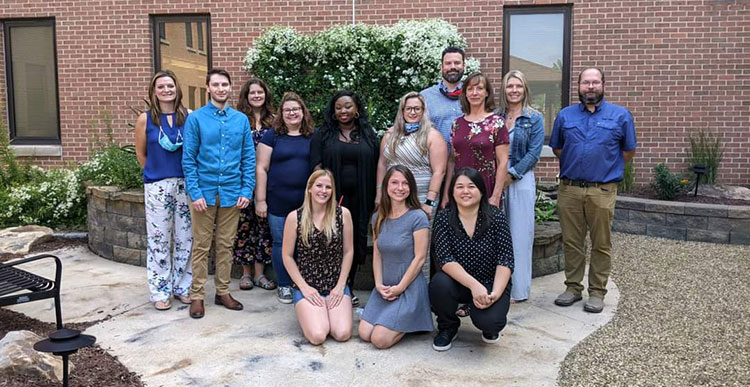 Educate the Next Generation of School and Clinical Mental Health Counselors
Applications are being accepted for the PhD program in Counselor Education and Supervision, which prepares students for leadership positions in the counseling profession and for teaching opportunities as a university professor. Graduates are doctoral-level counselor educators who are equipped to enter academia or positions of leadership with specialization in scholarship, supervision, and teaching.
Information Session
Learn more about this program by attending an online information session/webinar through Zoom. Online information sessions are held on the first Tuesday and the last Sunday of the month. Please register online.
This residential, full-time, affordable, streamlined program allows students to complete all coursework in a two-year time frame, including advanced practicum and field experiences. Field experience enables students to create a personalized experience based on career goals. Students may choose three or four CACREP areas as their focus, including teaching, counseling, supervision, research and scholarship, and leadership and advocacy.
The curriculum has a research emphasis throughout, facilitating student development as a scholar and includes "Conducting Research in Counselor Education and Supervision" that is dedicated to the development of the dissertation. Students are required to complete their program of study, including dissertation, seven years from the semester of first enrollment.
In this video, Michael Verona, PhD, describes his experience in the doctoral program in IUP's Counselor Education and Supervision program and how it helped his career.
Important Doctoral Admission Criteria
Students seeking admission to the program must meet the following criteria:
Have earned a 48- or 60-credit-hour master's degree in counseling from a CACREP-accredited institution.

or

Have earned a 48- or 60-credit-hour master's degree in counseling not from a CACREP-accredited program.
Students whose master's degree is not from a CACREP-accredited program, but hold a 48- or 60-credit counseling degree, must complete the additional coursework necessary to meet CACREP 2016 Standards. A transcript audit will be completed to identify any additional coursework. No applicant will be admitted who needs more than 12 credit hours including practicum.
The Need for Counselor Educators Is Growing
Recent changes in Council for Accreditation of Counseling and Related Educational Programs (CACREP) standards, implemented as of 2013, now require accredited counselor-training programs to hire faculty who have earned a doctoral degree in counselor education and supervision or have experience teaching in a CACREP-accredited program. Applicants from related fields are no longer qualified for hire.
At the same time, demand for school and clinical mental health counselors has increased and is projected to keep growing. The implementation of the Affordable Care Act has given access to mental health services to millions of Americans who were previously uninsured. The U.S. Department of Labor predicts that employment for mental health counselors will increase by 20 percent by 2024 (O*NET OnLine). Enrollment in mental health counseling master's programs is already increasing.
By earning a PhD in Counselor Education and Supervision, you'll help meet the demand for mental health services by educating the next generation of school and clinical mental health counselors.
Convenient Locations
Odd-Year Cohorts: Complete Your Studies at the Indiana Campus
Students in the Counselor Education and Supervision PhD Program at IUP will be able to take advantage of a location that fits their needs. Cohorts that start in the fall of odd years complete their studies at IUP's main campus in Indiana, Pennsylvania. Here, we have renovated a space in our Counseling Department dedicated specifically to PhD students to ensure a collaborative and productive environment.
Even-Year Cohorts: All Classes at Pittsburgh East, Near Monroeville and Greensburg
Students who begin their doctoral studies during an even year will take all classes at IUP Pittsburgh East. Situated at Penn Center, just 20 minutes east of downtown Pittsburgh, this location is ideal for counseling professionals in the Pittsburgh, Monroeville, and Greensburg areas. Free parking and communal spaces are available for all students.
The IUP Difference
Standards-based curriculum. The curriculum has been designed to meet the 2016 Council for Accreditation of Counseling and Related Educational Programs (CACREP) doctoral standards. IUP's doctoral program in Counselor Education and Supervision is currently under review for CACREP Accreditation.
Prepare for teaching, research, scholarship, and service. To prepare students for a faculty position, the PhD curriculum emphasizes teaching, research/scholarship, and service—the three areas in which faculty members are expected to excel. Students will gain experience in college teaching and mentoring. All coursework—outside of practicum and field experiences—includes research and scholarship. Additionally, the curriculum includes a course in leadership and advocacy in the profession with a high emphasis on service.
A tradition of excellence. Founded in 1965, the Department of Counseling at IUP has been the recipient of the PCA Outstanding Counselor Education Program Award in 2003, 2010, and 2019 from the Pennsylvania Counseling Association. Two faculty members have served as president of the Pennsylvania Counseling Association, another was awarded Counselor Educator of the Year from the Pennsylvania School Counselors Association, and two faculty members are certified team leaders for the CACREP self-study evaluation and site review.
Course Sequence
48-Credit PhD, Counselor Education and Supervision
In their first year, students will take three courses in fall and spring and two over the summer. During the second year, students will take two courses in the fall and spring.
Students register for dissertation credits in the second summer and third fall of the program. Starting in the third spring, students will continue with their dissertation and will take a one-credit continuous registration and thereafter until the dissertation is complete.
Specific Course Requirements
(To get to the Graduate Catalog, click the above link and use the drop-down menu in the upper right-hand corner of the home page to select "Graduate".)
Contact
Professor Holly Branthoover, EdD, is the doctoral program coordinator. Contact her at holly.branthoover@iup.edu.