Media Production and Research Facilities
Specialized labs in the Department of Communications Media support the CMPR. These labs feature state-of-the-art hardware and software used in the creation of digital media productions.
Stouffer Hall
The recently renovated G-16 Suite includes the Video Editing Lab, the Center for Media Production and Research, and an 18-person conference room suited for client and staff meetings. The CMPR is outfitted with high-powered Windows and OSx operating system computers. Each computer has Adobe Creative Suite Master Collection installed. Clients are able to work with staff members in real time and view project drafts.
The Graphics Lab, now located in Stouffer G-17, houses 30 workstations outfitted with Adobe Creative Suite software.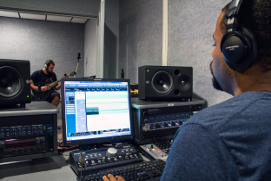 The Advanced Audio Studio features five recording stations that are capable of simultaneously recording from the sound booth to create a professional audio recording experience. CMPR clients can step into the sound booth to record their own voice overs, vocals, or instrumental pieces. For anyone with a little stage fright, our booth is outfitted with privacy shades. The sound booth can be controlled from one of the five recording stations equipped with Stienberg's Cubase digital audio recording software.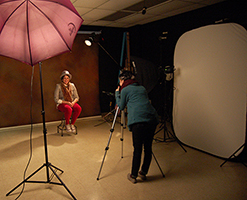 The Photography studio features new and updated backdrops, props, and a full lighting set-up perfect for portraits, product photography, and other creative works. Green screen capabilities are available as well.
Davis Hall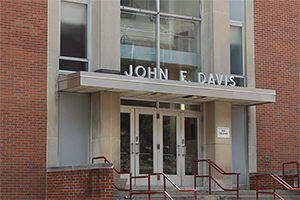 Located in Davis Hall, the IUP-TV Studios and "Bull Pen" Editing Suite support the CMPR and IUP-TV. The IUP-TV facility features two separate studios with green screen capabilities. The full-studio lighting and interview set gives CMPR productions a professional look. The television studio supports the academic curriculum by providing students with a working learning laboratory that includes state-of-the-art production equipment and editing software operated and managed by a highly skilled professional staff.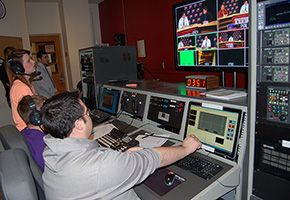 IUP-TV's Editing Suite features PC editing stations with Adobe Creative Suite and Mac stations with Final Cut Pro 7 and Adobe Creative Suite. These stations are fully integrated with the TV studio so all footage captured in the TV studio is fed directly to the Editing Suite network.
Davis Hall is also home to WIUP-FM, a 1600-watt, noncommercial, student-operated facility. Student volunteers are on-air music hosts, news and sports announcers, promotion staff, and station management.