Chinese Business Program


Program Description
China has experienced rapid economic growth and social development in the past decade. In addition, China has successfully reached outstanding business achievements and played an important role in global business development.
Based on the current trend of international business development, Indiana University of Pennsylvania has established a Chinese Business Program that has partnerships with different universities and educational institutions in China. The program aims to provide an excellent international learning experience as well as an authentic American education to Chinese students.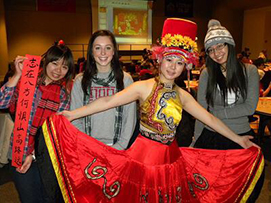 The IUP Eberly College of Business's unique educational approach and accredited business program is competitive beneficial in enhancing student's professional business knowledge in order to compete in the global marketplace.

The IUP Chinese Business Program has undergraduate 1+3/2+2 credit-hour exchange program agreements with various Chinese universities and educational institutes. This program provides great opportunities for Chinese students to spend their first one to two years studying the IUP-required fundamental level courses in China and then finishing the remaining two years at IUP in America.
By joining the IUP Chinese Business Program, students not only can take the advantage of maximizing their time and money value, but also have the opportunity to experience an accredited and professional American education in various fields in business management.
College Majors and Concentrations
Contact Information
Dr. Raj Garg
Professor of Marketing and Executive Coordinator of IUP Chinese Business Program
Address:
Eberly College of Business
Indiana University of Pennsylvania
664 Pratt Drive, Indiana, PA 15705
Phone: +01 (724)-357-4547
Fax: +01 (724)-357-7826
E-mail: Garg@iup.edu