Troy Polamalu Autographed Jersey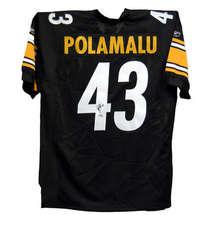 NFL* Autographed Replica Jersey - Men's M/M
*Comes with Authenticity Certificate
One of the best safeties in the NFLif not the best!
Troy Polamalu has developed into one of the NFL's top safeties He was a first-team All-Pro selection in 2005 and 2008 and has been selected to the past five Pro Bowls (2005, 2006, 2007, 2008, 2009). He was named to the Associated Press' and Pro Football Weekly's All-NFL team in 2005, and also earned spots on the Sports Illustrated's, Sporting News and PFW/PFWA's All-Pro teams. He was named to the AP's second-team All-Pro squad in 2004.
Polamalu is a ferocious hitter with excellent speed. He assumed the starting strong safety position in 2004, and was the recipient of the 2003 Joe Greene Award, given to the team's top rookie (he was drafted by the Steelers in the first roundsixteenth overallof the 2003 NFL draft). The Steelers traded their first-round pick (twenty-seventh overall), third-round pick (ninety-second overall), and sixth-round pick (two-hundredth overall) to Kansas City for the Chiefs' first-round pick, which was used to select Polamalu. He was named to the Steelers' seventy-fifth season All-Time Team during the 2007 season, and signed a five-year contract during the 2007 offseason to keep him with the team through 2011.
Web Prices: $350 - $800
Minimum Bid: $175
Minimum Bid Increments: $10
Donated by the IUP Alumni Association.
alumni-relations@iup.edu