Terrible Towel Autographed by William Gay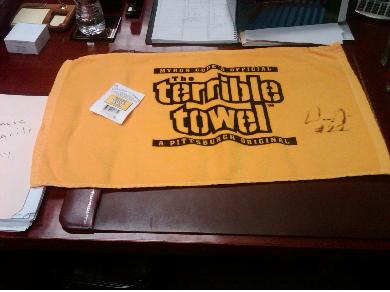 The Terrible Towel is a fan symbol associated with the Pittsburgh Steelers. Created in 1975 by then-Steelers radio broadcaster Myron Cope, the Towel has since become "arguably the best-known fan symbol of any major pro sports team." Since its invention, the Terrible Towel has spread in popularity; fans take their Towel to famous sites while on vacation. The Towel has been taken to the peak of Mount Everest, into space on the International Space Station, and by our troops in Iraq and Afghanistan and was seen on Saturday Night Live. It is widely recognized as a symbol of the Steelers and the city of Pittsburgh.
William Gay was selected by the Pittsburgh Steelers in the fifth round in the 2007 NFL Draft. In his first preseason game, he intercepted a Tyler Palko pass and tackled Saints' first-round draft pick Robert Meachem. In his rookie year, he played in sixteen games, recording nineteen tackles. In his second year, he saw more significant playing time. Gay also contributes on special teams. After the loss of Bryant McFadden in 2009, Gay assumed the starting duties at cornerback for the 2009 season opposite Ike Taylor. He has been resigned for the 2010 season.
Minimum Bid: $15
Minimum Bid Increments: $5