Hines Ward Autographed Picture
Pittsburgh Steeler Hines Ward Framed 8" x 11" Signature Photo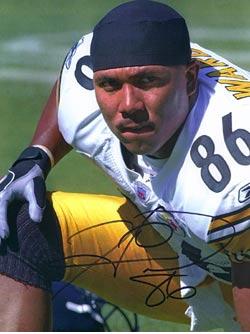 No. 86!
After a standout career at the University of Georgiawhere he amassed 3,870 all-purpose yards playing wide-out, quarterback, and running backHines Ward was drafted by the Pittsburgh Steelers in the 1998 NFL Draft. Ward's hard-nosed attitude and versatility have made him a perfect fit in and fan favorite in Pittsburgh, and he has blossomed into the Steelers' top receiver. He has been selected to multiple Pro Bowls and has established himself as one of the most complete receivers in the league.
In addition to his great pass-catching ability, Ward is widely regarded as the best blocking wide-out in the league, perfect for the Steelers' offensive attitude of pounding the football. Several times the team's MVP, Ward is currently first on the Steelers' all-time career receptions list after recording his 538th catch in November 2005.
He had another stellar season in 2005 with close to 1,000 yards receiving and eleven touchdowns, and he was an integral part of the Steelers' improbable run to the Super Bowl. After hauling in five catches for 123 yards, including a forty-three-yard clinching touchdown catch in the fourth quarter of the Steelers' Super Bowl XL victory over the Seattle Seahawks, Ward was named the game's MVP.
Value: Over $150
Minimum Bid: $75
Minimum Bid Increment: $10
Donated by the Pittsburgh Steelers Organization