Heath Miller Autographed Picture
8x10 Picture in 13x11 Black/Cherry Wooden Frame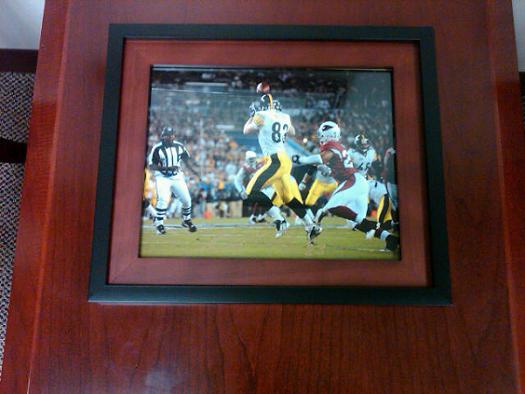 *Autograph is at the bottom in gold, metallic marker. It is difficult to see in this picture.
Two-Time Super Bowl Winner!
On July 29, 2009, the Steelers signed Miller to a new six-year contract that binds him to the team through the 2014 season. The contract is worth $35.3 million, including a $12.5 million signing bonus. Miller was elected to his first Pro Bowl on January 25, 2010, replacing the Indianapolis Colts' tight end Dallas Clark, who participated in the Super Bowl.
Value: $150
Minimum Bid: $75
Minimum Bid Increments: $10
Donated by John Simpson, Pittsburgh Steelers Organization