Birdsfoot Golf Club
Mini-Membership Savings Booklets Called "Golfer's Choice Ticket"
Four Tickets Available and Sold Separately: No Bidding; First Come, First Served
225 Furnace Run Road
Freeport, Pa. 16229
1-877-295-3656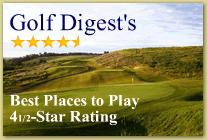 What it means:
Four stars: Outstanding. Plan your next vacation around it.
Five stars: Superb. Golf at its absolute best. Pay any price to play at least once in your life.
Sale Price:$20 Per Ticket
This Golfer's Choice Ticket is a discount card.If used to its maximum, each ticket will yield $500 in discount value.It includes
(Four)Two-for-one greens fees*
(Two) Foursome specials
(One) All-Day Play special
(One) Twosome special
(One) Buy one, get one 50 percent off shirts
(One) 20 percentoff sporting goods
(Two) Buy one, get one range tokens
The retail value is $39 per card, and there is never an expiration.
*Normaleighteen-hole green fees cost: $59
About the actual coupons:
Two-for-one:Golfers receive a free eighteen-hole green fee with purchase of a regular green fee and a cart rental. The golfer receiving the free green fee is required to rent a cart at regular price. The only time this coupon cannot be used is on Memorial Day, the Fourth of July, Labor Day, and before 12:30p.m. on Saturdayand Sunday. Otherwise it is good anytime. This one is the most popular because it is a really good deal.It works out to $34/golfer, saving $25/golfer.
Four/$160 Weekend: Fourgolfers play eighteen holes including cart for $160.Valid before 7:30 a.m. and after 11:00 a.m. on Saturday, Sunday, and holidays.Must have four golfers for special.
Four/$140 Weekend afternoon: Fourgolfers play eighteen holesincluding a cart for $140 after noon on Saturday and Sunday.Must have four golfers for special.
Two/$60 Weekday:Two golfers play eighteen holes including a cart for $60 Monday-Thursday anytime after noon.Must have two golfers for special.
All day play: Monday-Friday play all day including a hot dog lunch for $49. Valid for up to four golfers.
The rest are fairly self-explanatory.
Donated by Michelle L. Hardt, Events Coordinator
First Ticket:SOLD
Second Ticket:SOLD
Third Ticket:Available
Fourth Ticket:Available