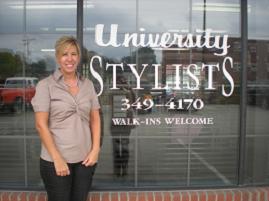 Maggi Fennell, owner of University Stylists in Indiana, Pa., has been styling hair for 13 years and decided to buy the salon two years ago.

The conveniently located hair salon offers prices that competitors in the area cannot beat and has clients, men and women, from college students to senior citizens. It offers not only hair services, but also waxing and nail services. With the salon's warm, welcoming staff and laid-back atmosphere, it's hard to imagine anyone having a hard time feeling comfortable during their visit.

This business reaches out to the community as much as it can; advertisement flyers are handed out to new students, coupons are given out on campus, and University Stylists also takes part in holiday food drives.

The salon has become extremely popular among students who are looking to get a pricey looking haircut, and it constantly has a steady book of clients.

With such great success also come a few challenges. Different clients have their own ways of doing things and can sometimes be demanding about their hair, but that is all part of being a hair stylist.

As far as future goals go, Fennell mentions maybe eventually turning the salon into more of a full service spa and offering things like massages. For right now, the employees at University Stylists are enjoying their success and encourage anyone on a budget and in need of a fresh look to stop by.