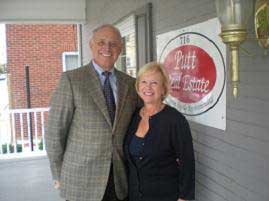 Putt Real Estate is a business dedicated to selling and leasing high-quality homes, businesses, and other properties around Indiana, Pa., with first-class service. The brokers and agents of Putt Real Estate have been serving the community since 1969, when Wally Putt's father first started the business; Wally joined in 1975, and his wife, Donna, joined 10 years later.

Wally and Donna Putt are the only two brokers in Indiana who have the CRB (Council of Real Estate Brokerage) designation, which shows how unique and valuable this company is compared to others in the area. The business not only offers strong knowledge of the local market and access to nationwide referrals, but also years of experience, a great reputation, and past customer satisfaction: Putt Real Estate was the leading listing and selling agency in 2009.

Wally and Donna have also contributed a lot to the community besides their outstanding brokerage services. They have served as members of the Chamber of Commerce, the Indiana Arts Council, the Foundation for IUP, and Greystone Church.

The company has an important mission statement that they rely on when conducting business: "to provide quality service to each other and the customers [they] serveby being innovative and creative in [their] thinking and [their] actions."

The people of Putt Real Estate also have a few key elements to their everyday philosophy that include being as professional as possible and treating their clients' interests as their own, earning a profit that will sustain Putt Real Estate for years to come, drawing in and keeping talented employees, and being the best they can be through hard work. When thinking about who will succeed them, Wally and Donna have a few ideas in mind but nothing conclusive, and for right now, they are just enjoying the success they have. If you are in the market for a new home, a temporary apartment, or a place to begin a business, Putt Real Estate is by far the finest and most dependable choice.