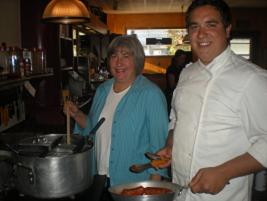 Sixty years ago, Napolean and Josephine Patti opened a bar in downtown Indiana, Pa., called Nap Patti's. After over 40 years of success, their daughter, Mary Jo Karas, took over and decided to turn the bar into a restaurant in 1992.

Nap's Cucina Mia is known for its tasty Italian cuisine and cheerful, relaxing atmosphere. Nap's buys its produce and meats locally, and almost everything on the menu is homemade. The restaurant's greatest success has been sustaining business over the past 18 years since being transformed from a bar.

Karas' son, Nick, became the chef at the restaurant three years ago after attending culinary school in Italy. By making a few changes, he revitalized Nap's, but also made sure not to lose sight of what traditions made the restaurant successful in the first place. Nap's contributes to society by participating in charity events such as "Souperbowl" Monday for the United Way, and he also supports the community through helping to put up Christmas lighting in downtown Indiana.

The staff at Nap's strongly believe that people should shop and buy downtown as much as possible to keep business thriving. To do the same and enjoy a delicious Italian meal, Nap's Cucina Mia is the perfect place to go.